Daily 10 Mix Mushroom Tincture
Daily 10 Mix Mushroom Tincture
A few squeezes in your mouth or in your favorite drink. A 10 second ritual to 10x your health with 10 functional mushrooms (non-psychoactive). It's like having 10 bodyguards fighting off the bad guys.
Supports:
Immune function
Occasional Stress Adaptability
Antioxidant Properties
Brainpower
Energy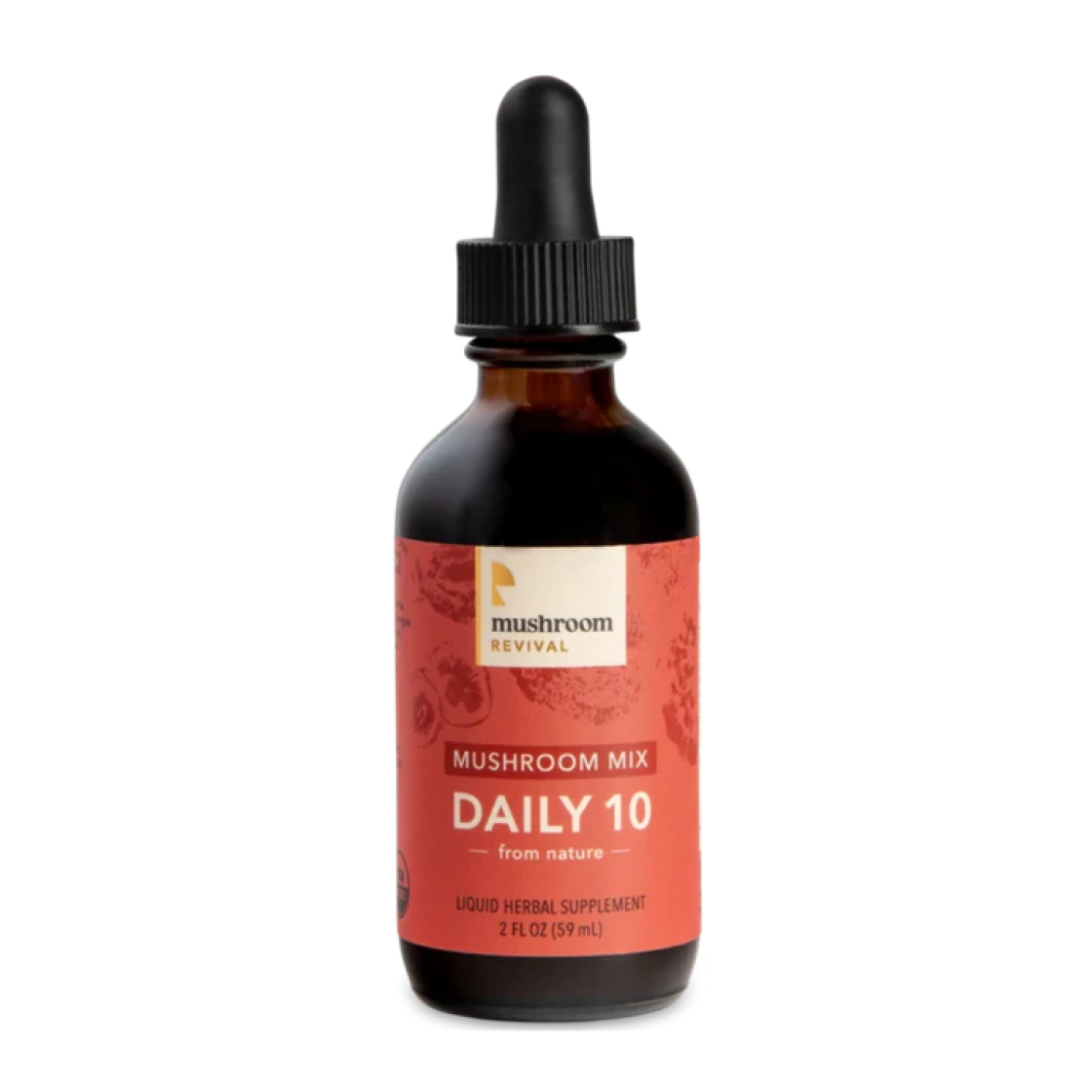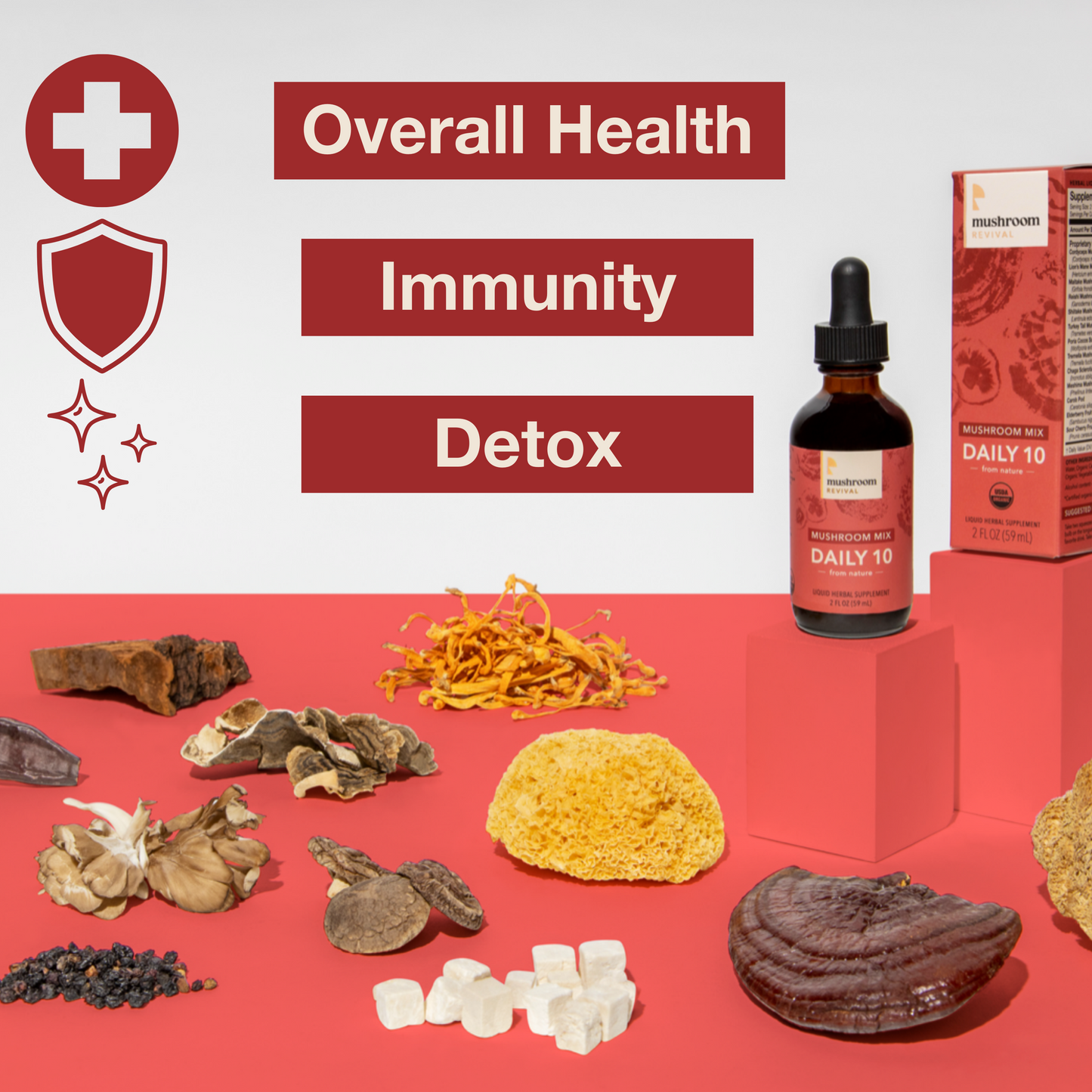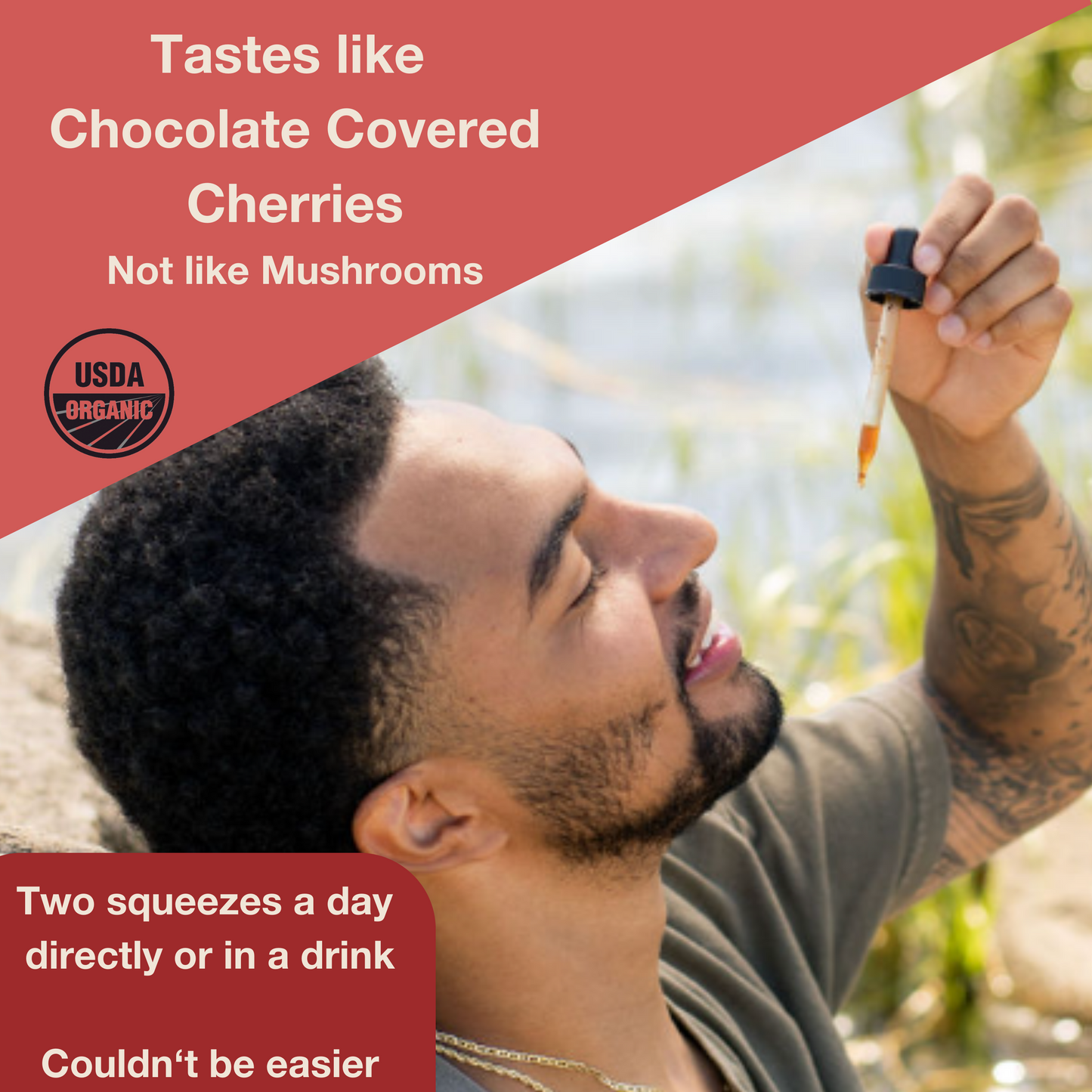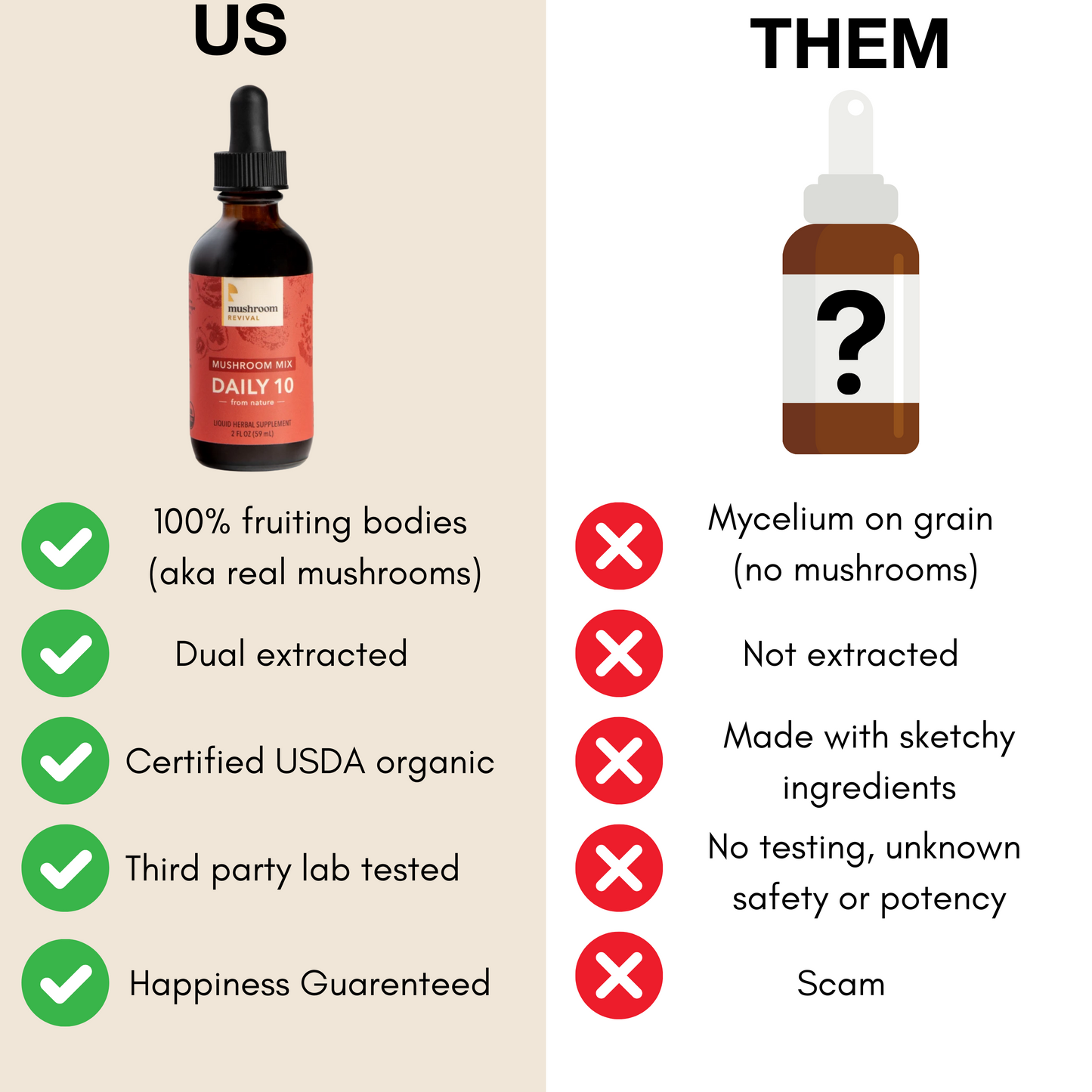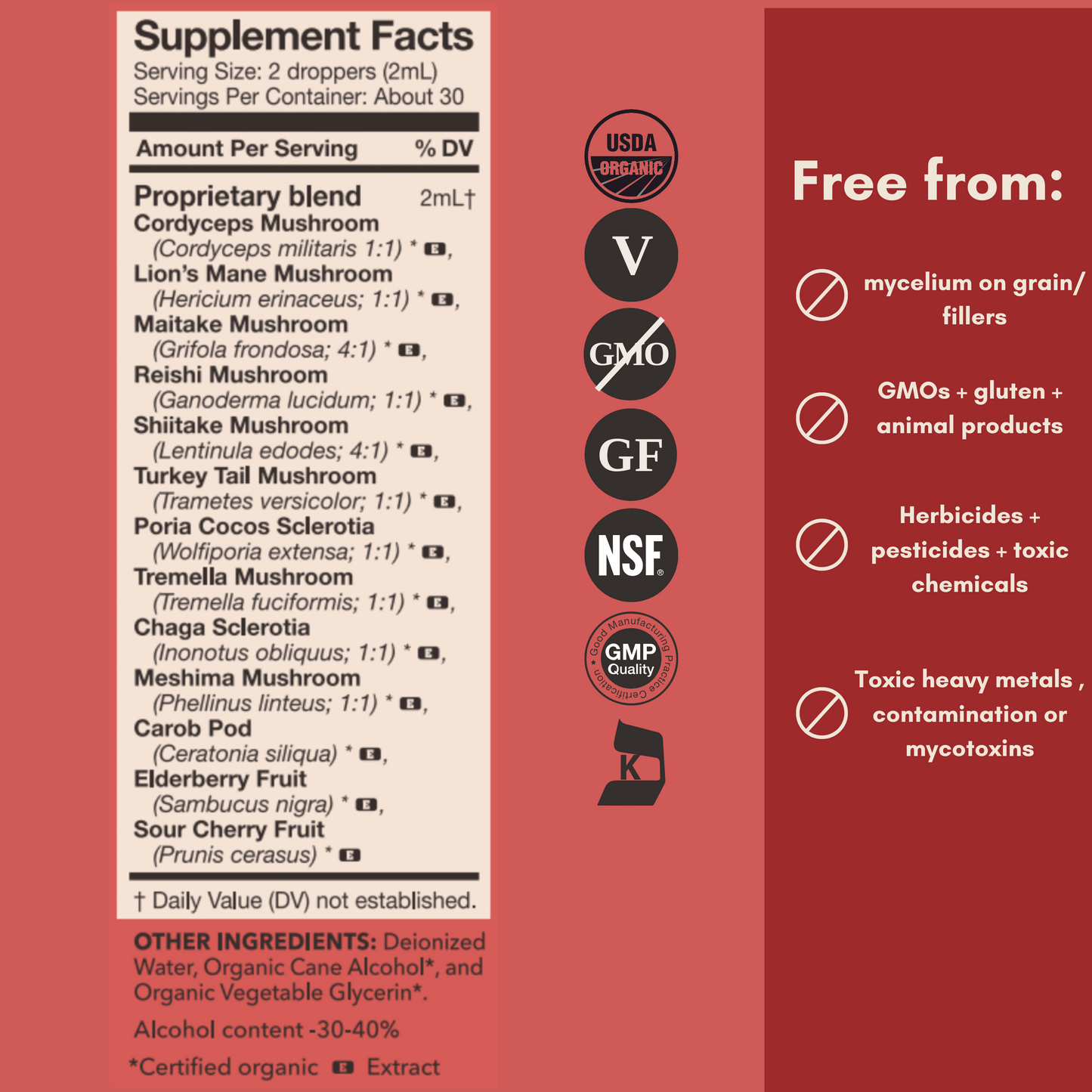 Product Details
Description

Think of Daily 10 as your secret ingredient for daily good vibes.

Supports:

Immune function*
Occasional Stress Adaptability*
Antioxidant Properties*
Brainpower*
Energy*

Imagine if you had your own personal bodyguard on-hand to keep away any unwanted visitors, interruptions, or other bad vibes? The next best thing might be our Daily 10 tincture. 

Stop settling for feeling rundown and overwhelmed. Add a few squeezes of our certified-organic drops directly onto your tongue or in your favorite drink, and get the power of TEN pure and potent functional mushrooms chosen to support your mind and body: Chaga, Lion's mane, Cordyceps, Reishi, Shiitake, Maitake, Tremella, Turkey tail, Meshima, and Poria Cocos.

This 100% vegan tincture blends together extracts exclusively from mushroom fruiting bodies, which is where the adaptogenic compounds and other good stuff lives. Other blends you may have encountered might include "mycelium on grain," which is the root part of the mushroom (when it's grown on a starchy medium) and doesn't pack the same punch. 

With some organic cherry fruit and elderberry seed to add a nice fruity taste, Daily 10 will be your go-to daily supplement to support sustained energy levels and smooth performance of your body & mind.

If you're looking to fortify your well-being from occasional stress and live a more balanced life, our all-star blend supports your immune system, your adrenals, and your mood. Think of our Daily 10 as your secret ingredient for daily goodness.



*These statements have not been evaluated by the Food and Drug Administration. This product is not intended to diagnose, treat, cure, or prevent any disease.

Out of Stock
Suggested Use

Take two squeezes of the dropper bulb on the tongue or in your favorite drink. Take more as desired.
Ingredients

Cordyceps Mushroom
(Cordyceps militaris 1:1)*
Lion's Mane Mushroom
(Hericium erinaceus; 1:1)*
Maitake Mushroom
(Grifola frondosa; 4:1)*
Reishi Mushroom
(Ganoderma lucidum; 1:1)*
Shiitake Mushroom
(Lentinula edodes; 4:1)*
Turkey Tail Mushroom
(Trametes versicolor; 1:1)*
Poria Cocos Sclerotia
(Wolfiporia extensa; 1:1)*
Tremella Mushroom
(Tremella fuciformis; 1:1)*
Chaga Sclerotia
(Inonotus obliquus; 1:1)*
Meshima Mushroom
(Phellinus linteus; 1:1)*
Carob Pod
(Ceratonia siliqua)*
Elderberry Fruit
(Sambucus nigra)*
Sour Cherry Fruit
(Prunis cerasus)*

Other ingredients: Deionized Water, Organic Cane Alcohol*, and Organic Vegetable Glycerin*. Alcohol content: 30-40%

• *Certified organic
• 100% mushroom fruit bodies.
• No mycelium on grain.
Customer Reviews
Write a Review
Ask a Question
23 February 2023
Victorina S.

United States
Ordered in December and was out of stock till February
I love Mushroom Mix Daily 10, its a great product and I was really looking forward to receiving my order. Unfortunately, the product was backordered for many weeks and I eventually received a (requested) refund. I sure hope they can work out their kinks with the supplier. Meanwhile, I guess I'll shop elswhere for a mushroom blend
14 November 2022
Anonymous

United States
Excellent supplement
I could tell a noticeable improvement in memory and mood within a couple weeks.
22 September 2022
Anonymous

United States
Great product!
I take a little every night before bed and it really helps me evolve spiritually. My psychic abilities have improved and my dreams are more lucid! Thanks