Focus Lion's Mane Gummies
Focus Lion's Mane Gummies
First USDA certified organic mushroom gummies in the world. A tasty treat to 10x your health with functional mushrooms (non-psychoactive). Not only do they taste good, they make you feel good too! Albert Einstein would be jealous of this easy hack. Straight from the earth, right to your brain.
Supports:
Mental Clarity
Cognitive Function
Gut Health
Nervous System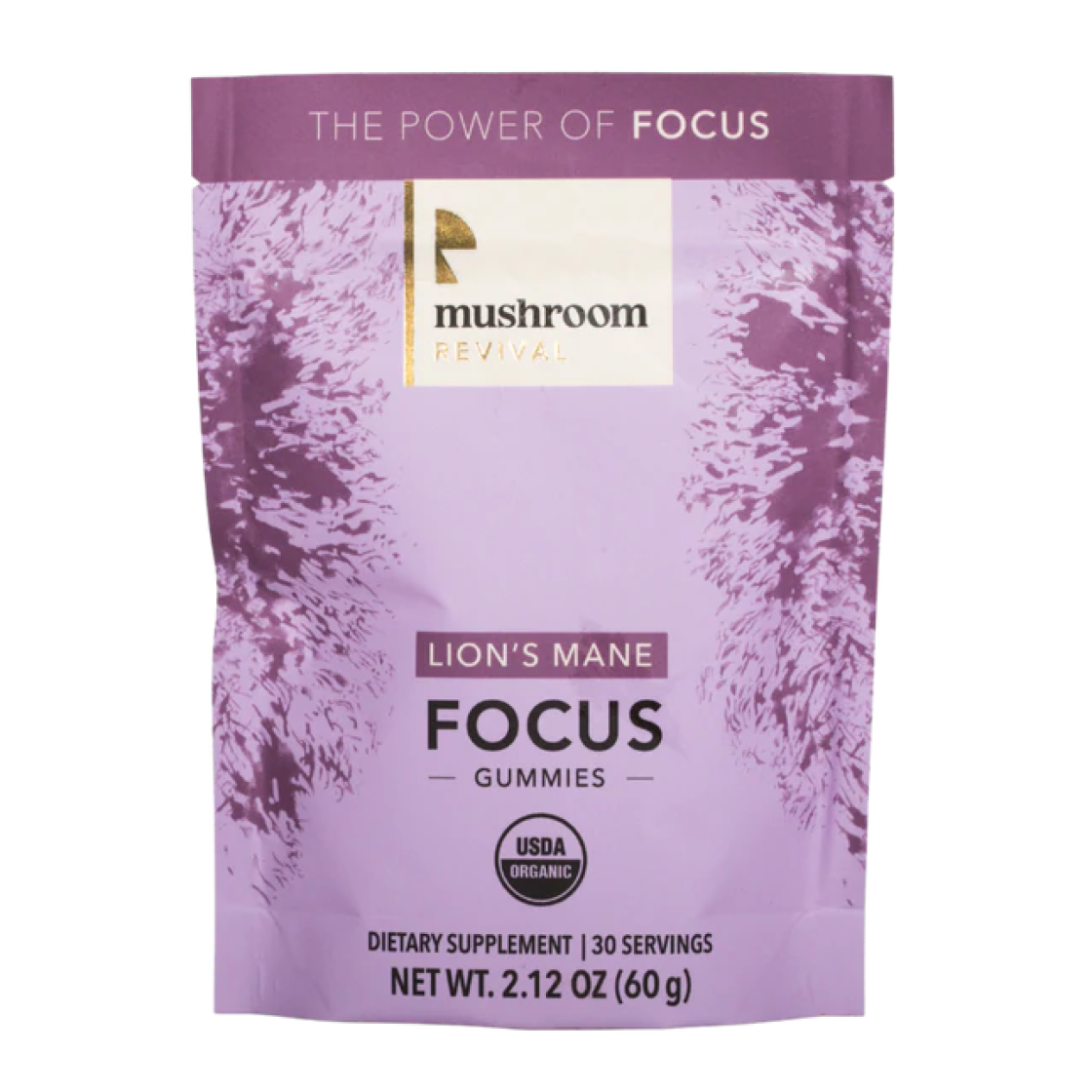 Product Details
Description

World's first USDA certified organic mushroom lion's mane gummies

Supports:



Mental clarity, focus and recall*
Cerebral and cognitive function*
Gut Health*
Nervous System

Don't worry, these are 100% vegan!

Does your brain need a hug? Our lion's mane gummies are your brain's best friend, since they might help you get the focus and clarity you've been looking for without jitters or other side effects. Try these functional mushroom focus gummies if you want to power through your work with laser-sharp focus, think more creatively, and improve your memory.

A sharper mind, with no caffeine involved! In fact, you may want to try taking this just before bed to help your brain more smoothly wind down and avoid occasional restlessness.

Your stomach might hear the roar of the lion's mane and feel supported, too. Imagine a world where your gut flora lives in perfect harmony, and your digestive system is supported and happy. A smoother mind and calmer gut could work together for better days ahead.

These lion's mane mushroom gummies for adults are fun, tasty, and easy to take. If you're not super thrilled about taking a capsule or just want something easy to swallow, gummies might be a great choice. Our gummies are the first USDA-certified organic lion's mane mushroom gummies out there, and they're 100% vegan.

Add naturally flavored Lion's Mane Gummies to your daily routine and see if they can level up your brainpower.

50% post consumer recycled packaging!

Equivalent to 1,360mg of mushrooms per serving, and 40,800mg of mushrooms per bag

*These statements have not been evaluated by the Food and Drug Administration. This product is not intended to diagnose, treat, cure, or prevent any disease.
Suggested Use

Take two gummies everyday
Ingredients

Organic Focus Mushroom Blend: 310 mg † *

Organic Lion's Mane Mushroom Extract 4:1 (Hericium erinaceus) (Fruiting body) ***

† equivalent to 1360 mg of mushrooms per serving
* daily value not established
*** Water/Alcohol Extracted

Other Ingredients:
Organic Tapioca Syrup
Organic Cane Sugar
Purified Water
Organic Agave inulin
Organic Lemon Juice Concentrate
Citrus Pectin
Organic Fractionated Coconut Oil
Organic Flavor
Trisodium Citrate
Vegetable Oil
Carnauba Wax


100% Mushroom Fruit Bodies. No Mycelium on Grain
Customer Reviews
Write a Review
Ask a Question
24 July 2023
Rachel A.

United States
Awesome Gummies
The Focus Lions Mane Gummies work. My partner and I take 2 per day and each of us noticed a sublime, positive change in our well being from day one. Each of us had the same thoughts about the gummies in our unique experiences. She at work and me at home. We each felt on top of our game, "on", and mentally alert. Yet, there were no physical or mental side effects...we just felt GOOD. I ordered us another pack with the monthly subscription and have been taking these gummies everyday for over a month. Glad I found them!
19 September 2022
Lena K.

Australia
1
Have not received it yet Taking too long
28 July 2022
marjorie d.

United States
Supporting brain health!
Thank you for supporting my brain health as I get pulled in multiple directions. Its the best investment in my long term brain health.