Energy Cordyceps Powder
A 10 second ritual to 10x your health. Just a scoop in your favorite drink, it couldn't be easier or tastier to feel so much better with functional mushrooms (non-psychoactive). Cordyceps mushrooms are a caffeine free, jitter free, crash free natural superfood to feel on top of the world.
Supports:
Energy and endurance
Occasional stress adaptability
Athletic performance
Metabolic function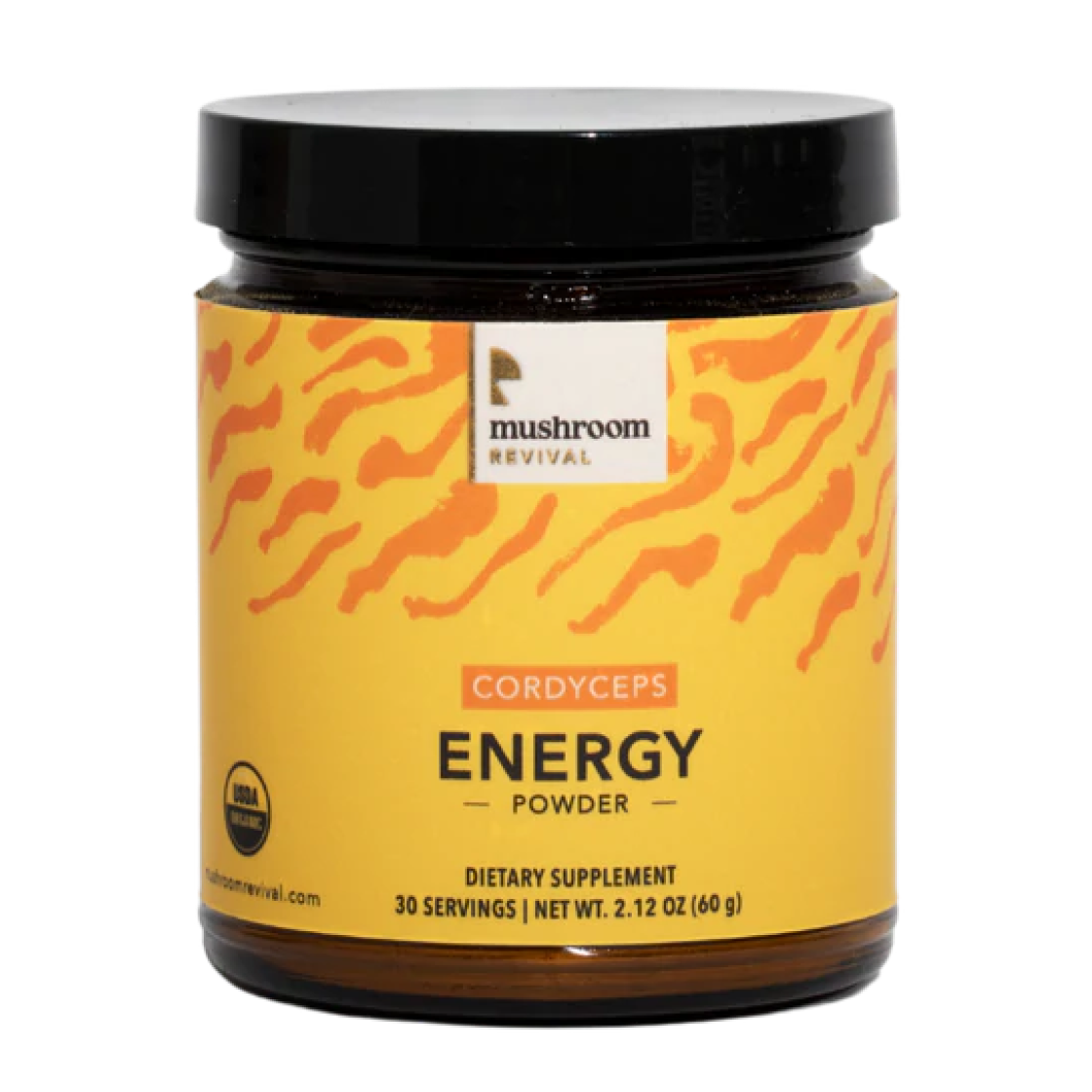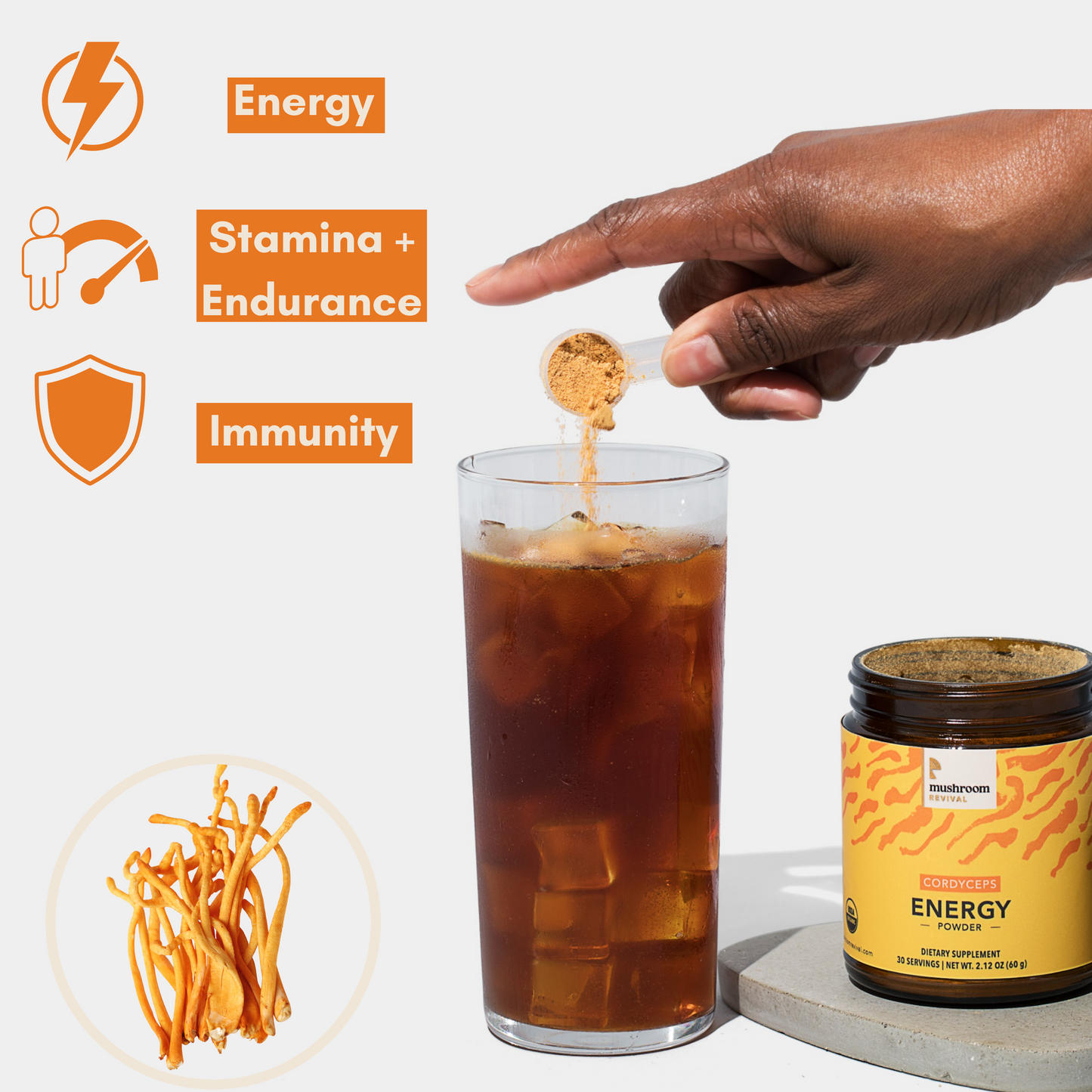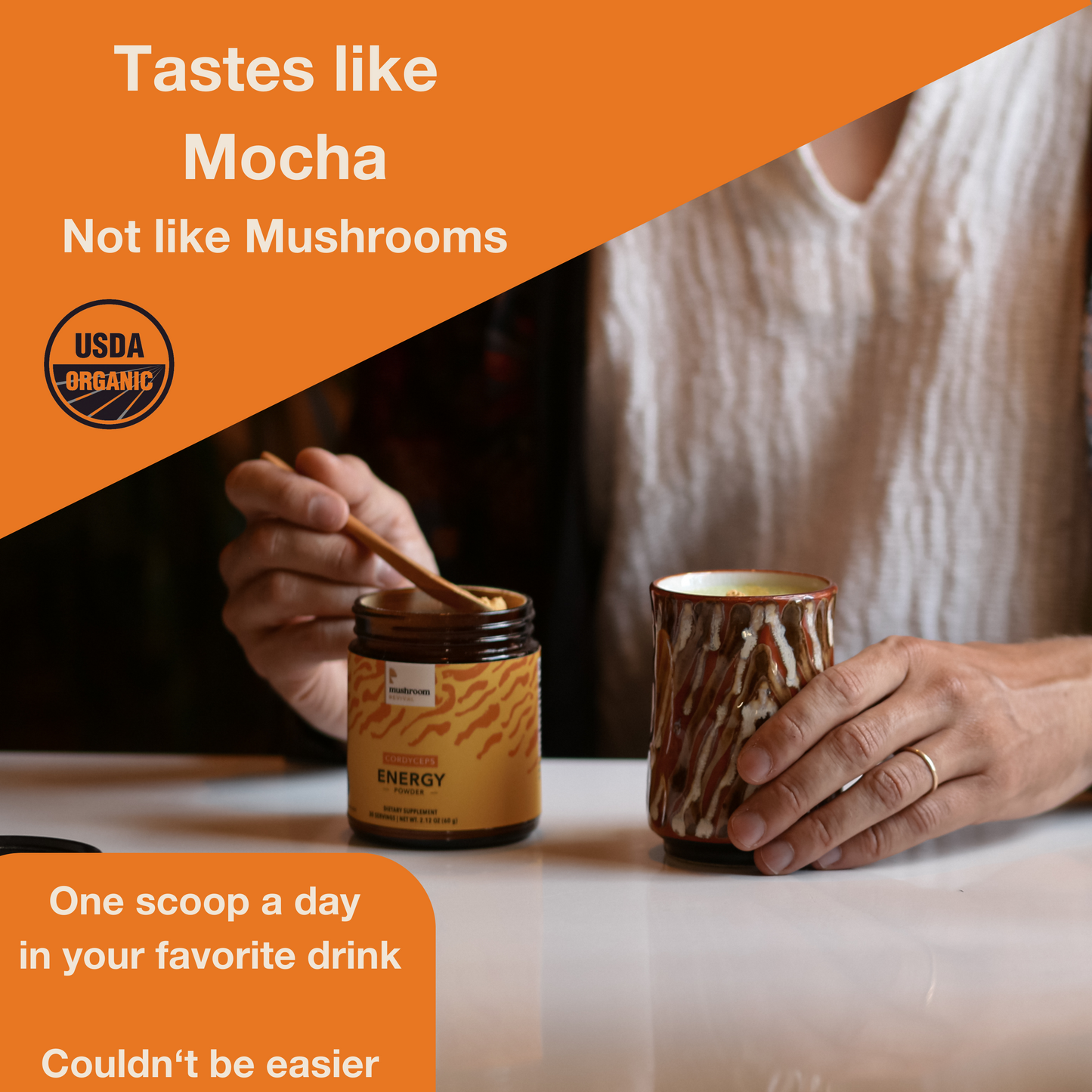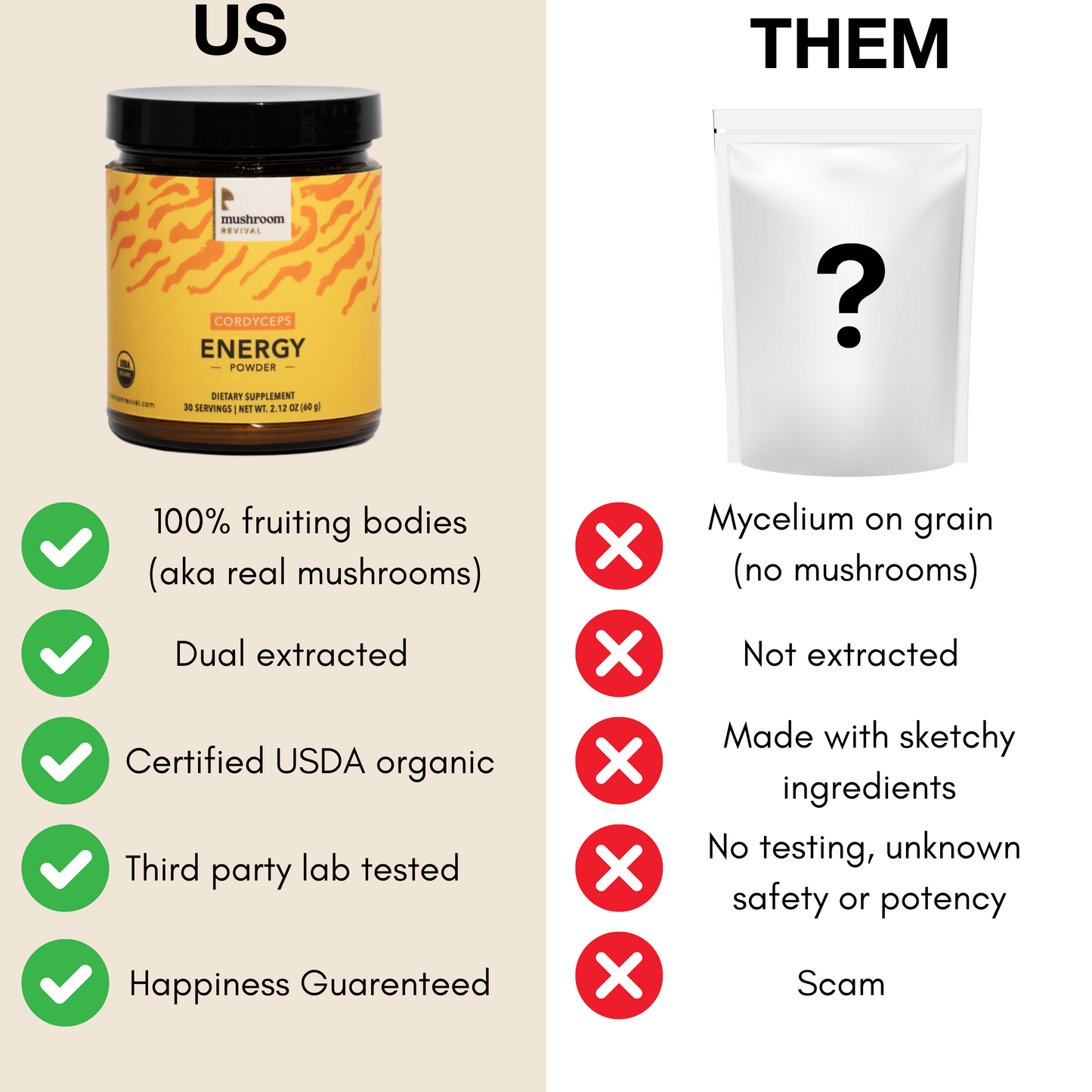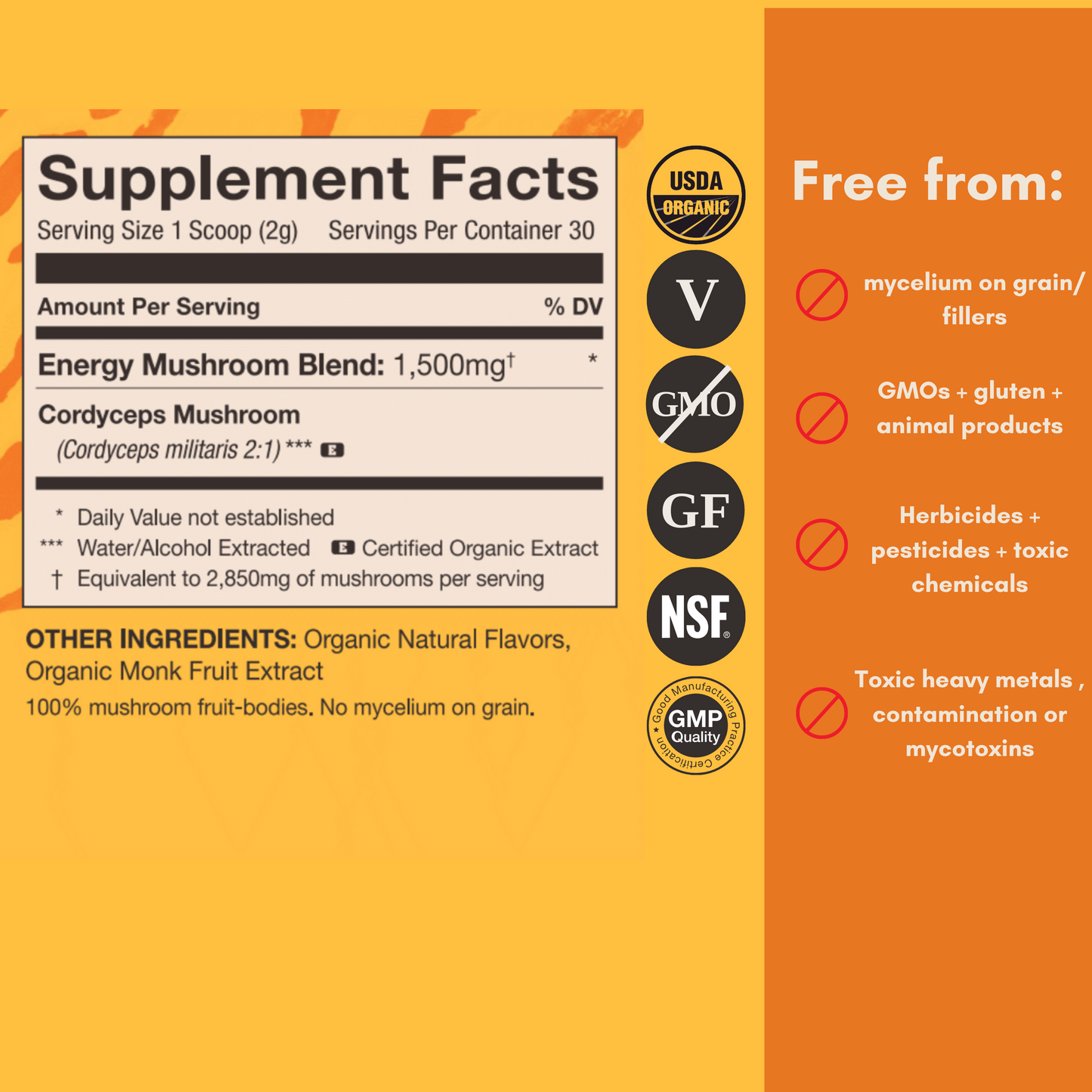 Frequently bought together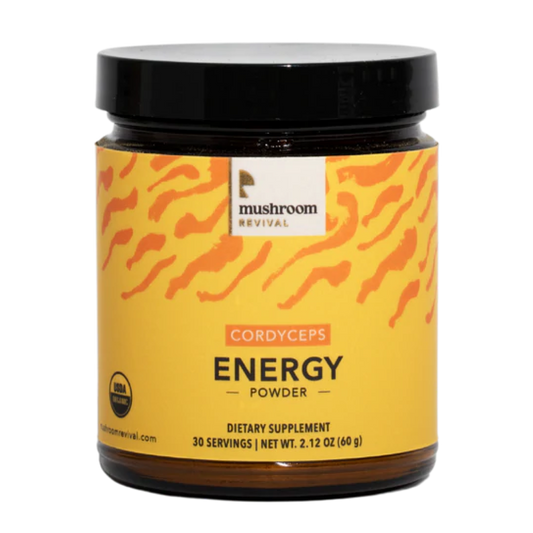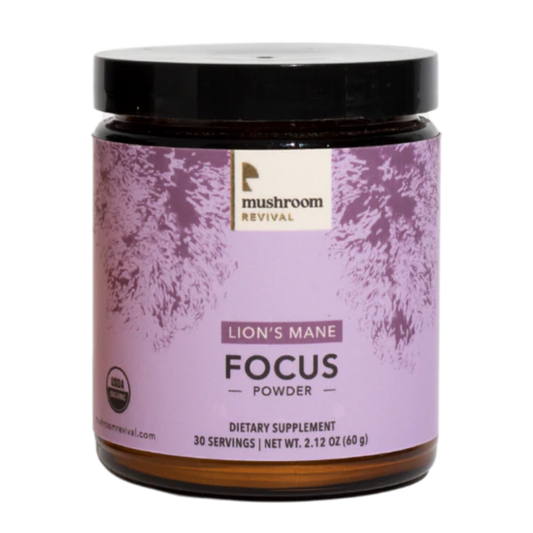 Revive your health
Included in this pack: Energy Cordyceps Powder + Focus Lion's Mane Powder + Daily 10 Mushroom Blend Powder
TOTAL (3 Pack - Save 10%): $104.85 $94.37
Revive your health
Product Details
Description

Energy Cordyceps Powder Supports:



Energy and endurance
Occasional stress adaptability
Athletic performance
Metabolic function


Running on fumes and need a refill of your personal gas tank? Stop settling for the jitters of coffee or the crash of sugar snacks, and harness the power of functional energy mushrooms to support your energy levels and fortify your overall health.

Whether you drink a cup of coffee, a smoothie, or even fresh juice in the morning, a mocha coffee-flavored scoop of our Energy Cordyceps Powder may be what you're looking for to support your increase your energy levels, endurance, and stamina—and power through your days.

Cordyceps supports the production of energy-carrying molecules in the body's cells and oxygen uptake in the lungs, which may explain how it helps support athletic performance and metabolic function. This mushrooms for energy support may extend to sexual libido and even brain function.

Many Mushroom Revival customers like to consume cordyceps in the morning, supporting their energy levels throughout the day while still letting them wind down at night for restful sleep. They keep coming back for our tasty, USDA-certified organic, 100% vegan mushroom powders, made exclusively from mushroom fruiting bodies (no mycelium on grain).

Equivalent to 2880mg of mushrooms per serving, or 86,400mg of mushrooms per jar

Each Product Plants One Tree! Learn more here.

Check out our FAQ to learn about the basics and more.

*These statements have not been evaluated by the Food and Drug Administration. This product is not intended to diagnose, treat, cure, or prevent any disease.

Suggested Use

Take one scoop everyday in your favorite drink
Ingredients

Organic Energy Mushroom Blend: 1,500 mg † *

Organic Cordyceps Mushroom Extract 2:1 (Cordyceps militaris) (Fruiting Body) ***

† equivalent to 2,850 mg of mushrooms per serving
* daily value not established
*** Water/Alcohol Extracted

Other ingredients:

Organic Natural Flavors
Organic Monk Fruit Extract

100% Mushroom Fruit Bodies. No Mycelium on Grain
Customer Reviews
Write a Review
Ask a Question
20 January 2023
Anonymous
Cordyceps Pow(d)er!
The cordyceps powder makes delicious tea with nothing else added but hot water. It seems to boost my energy levels and focus- not super dramatic, but noticeable. When I really need a pick-me-up, I add a scoop to my coffee. Lions Mane is next on the list. Thank you!
30 November 2022
Anonymous

United States
Great energy no jitters
Trying to quit coffee due to my anxiety. This product has helped a lot. Gives me clean feeling energy. Haven't tested my Vo2 max yet but I feel it has increased on longer rides.
25 September 2022
Anonymous

United States
Works great!
I've been using cordyceps for years now! Switched over to your so I can try another company because I love your mission. Only feedback is that it's too sweet. Possibly the monkfruit changes the flavor? It has a taste that changes my coffee too much (previous company did not and was pure cordyceps). Will try putting in a juice or smoothie