Daily 10 Mix Mushroom Gummies
Daily 10 Mix Mushroom Gummies
First USDA certified organic mushroom gummies in the world. A tasty treat to 10x your health with functional mushrooms (non-psychoactive). Not only do they taste good, they make you feel good too!
Supports:
Immune function
Occasional Stress Adaptability
Antioxidant Properties
Brainpower
Energy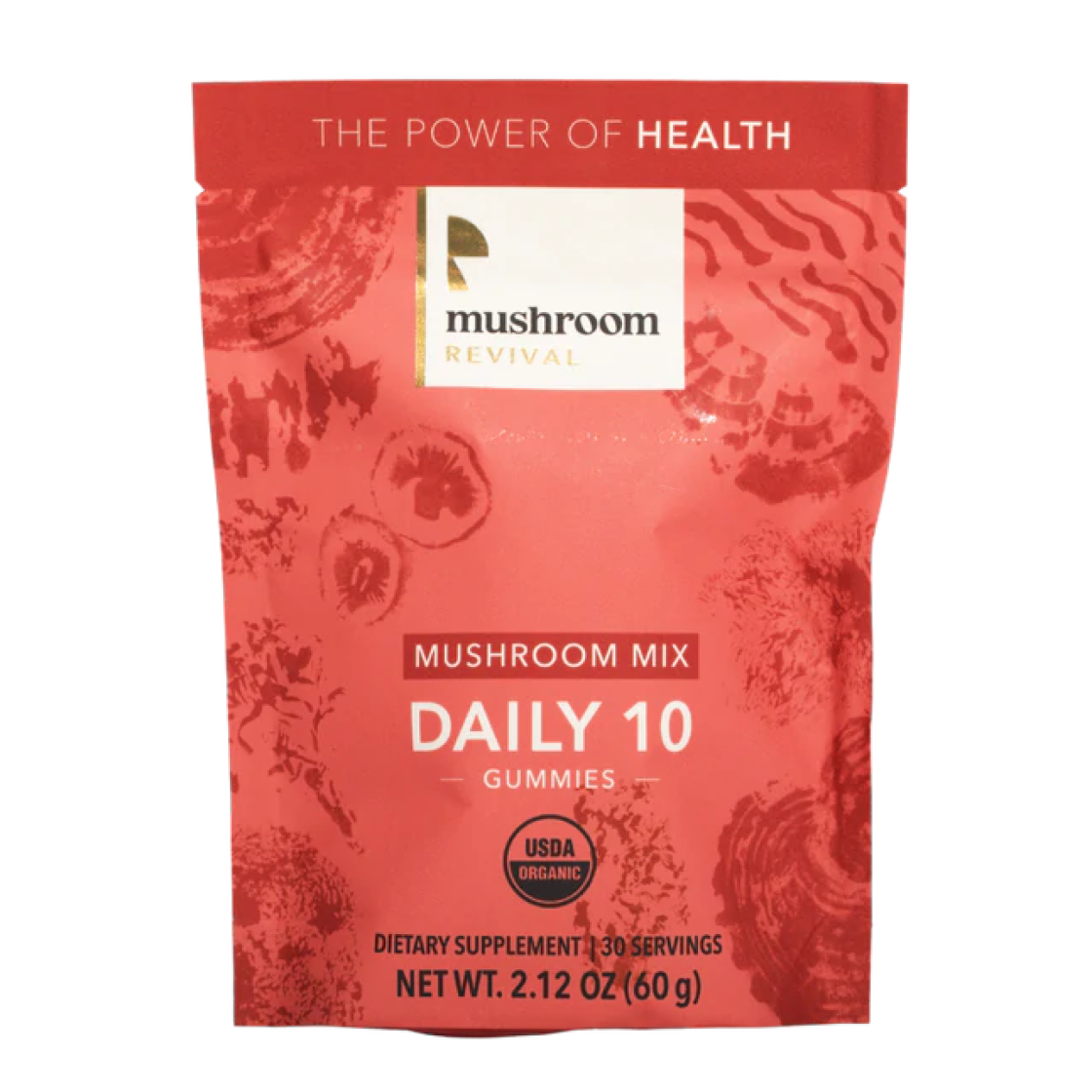 Product Details
Description

World's first USDA organic mushroom gummies

Supports:


Immune function*
Occasional Stress Adaptability*
Antioxidant Properties*
Brainpower*
Energy*


Don't be fooled by their candy-like appearance: each mushroom gummy aspires to be a bulletproof vest for any nasties that want to bring you down.

Our Daily 10 mix mushroom gummies taste good, but you'll really love tapping into ten different functional mushrooms to help keep your body and mind operating efficiently. Go beyond your existing diet and exercise to try and support your body's immune system, metabolism, and natural detox functions. Go ahead and fortify your overall well-being and get support when the occasional stressor comes your way.

The Daily 10 formula is a USDA-certified organic and 100% vegan mushroom blend that consists of some amazing adaptogenic compounds and ten mushroom species: cordyceps, lion's mane, reishi, turkey tail, chaga, shiitake, tremella, meshima, maitake and more!
Try our best mushroom gummies today!
Our long-time customers tell us that they've seen positive effects on their health over time, swearing by our Daily 10 blends to get them there. One feature we hear a lot of praise about is that our products lack any kind of nasty gelatins, since our mushroom edibles are both low-sugar and vegan.

Equivalent to 1508mg of mushrooms per serving, or 45,240mg of mushrooms per bag

50% post consumer recycled packaging!

*These statements have not been evaluated by the Food and Drug Administration. This product is not intended to diagnose, treat, cure, or prevent any disease.

 
Suggested Use

Take two gummies everyday
Ingredients

Organic Daily 10 Mushroom Blend: 266 mg † *

Organic Cordyceps Mushroom Extract 10:1 (Cordyceps militaris) (Fruiting Body) ***
Organic Lion's Mane Mushroom Extract 8:1 (Hericium erinaceus) (Fruiting Body) ***
Organic Chaga Extract 8:1 (Inonotus obliquus) (Sterile Conk) ***
Organic Turkey Tail Mushroom Extract 8:1 (Trametes versicolor) (Fruiting Body) ***
Organic Maitake Mushroom Extract 1:1 (Grifola frondosa) (Fruiting Body) **
Organic Tremella Mushroom Extract 1:1 (Tremella fuciformis) (Fruiting Body) **
Organic Shiitake Mushroom Extract 1:1 (Grifola frondosa) (Fruiting Body) **
Organic Meshima Mushroom Extract 1:1 (Phellinus linteus) (Fruiting Body) **
Organic Poria Sclerotium Extract 1:1 (Wolfiporia extensa) (Sclerotium) **
Organic Reishi Mushroom Extract 8:1 (Ganoderma lingzhi) (Fruiting body) ***

† equivalent to 1508 mg of mushrooms per serving
* daily value not established
** Water extracted
*** Water/Alcohol Extracted

Other Ingredients:
Organic Tapioca Syrup
Organic Cane Sugar
Purified Water
Organic Agave inulin
Organic Lemon Juice Concentrate
Citrus Pectin
Organic Fractionated Coconut Oil
Organic Flavor
Trisodium Citrate
Vegetable Oil
Carnauba Wax

100% Mushroom Fruit Bodies. No Mycelium on Grain
Customer Reviews
Write a Review
Ask a Question
20 November 2022
Cynthia S.
Love them!
My whole family loves these and whenever they're home, sneak some from the stash.
24 August 2022
Anonymous

United States
Daily 10
So far I am happy with the product. The taste is decent, could be better
28 July 2022
marjorie d.

United States
Supporting my immunity
My daily gummy for maintaining my health. They're delicious while supporting my immunity.