Focus Lion's Mane Tincture
Focus Lion's Mane Tincture
A few squeezes in your mouth or in your favorite drink. A 10 second ritual to 10x your health and unlock your super brain power with functional mushrooms (non-psychoactive). Albert Einstein would be jealous of this easy hack. Straight from the earth, right to your brain.
Supports:
Mental Clarity
Cognitive Function
Gut Health
Nervous System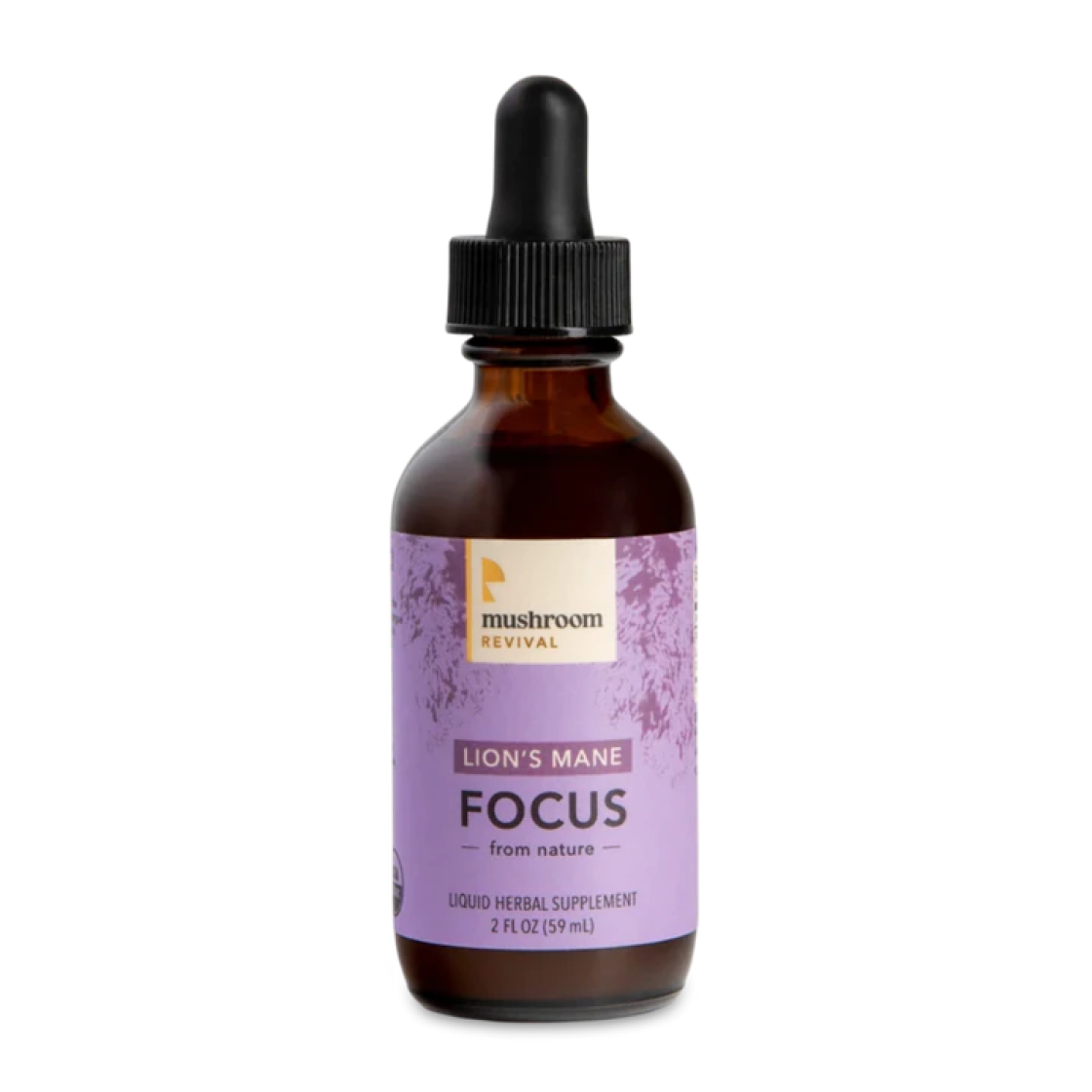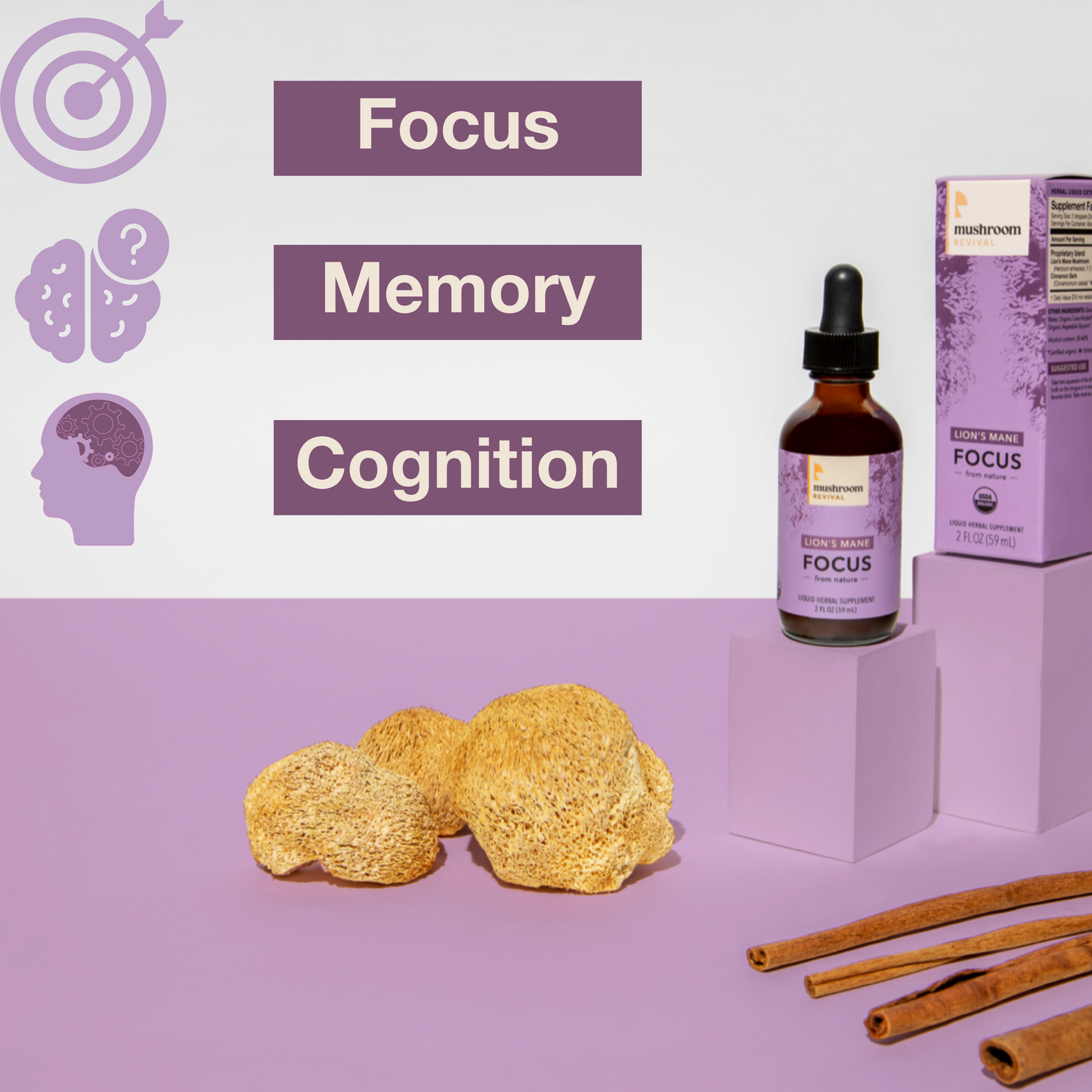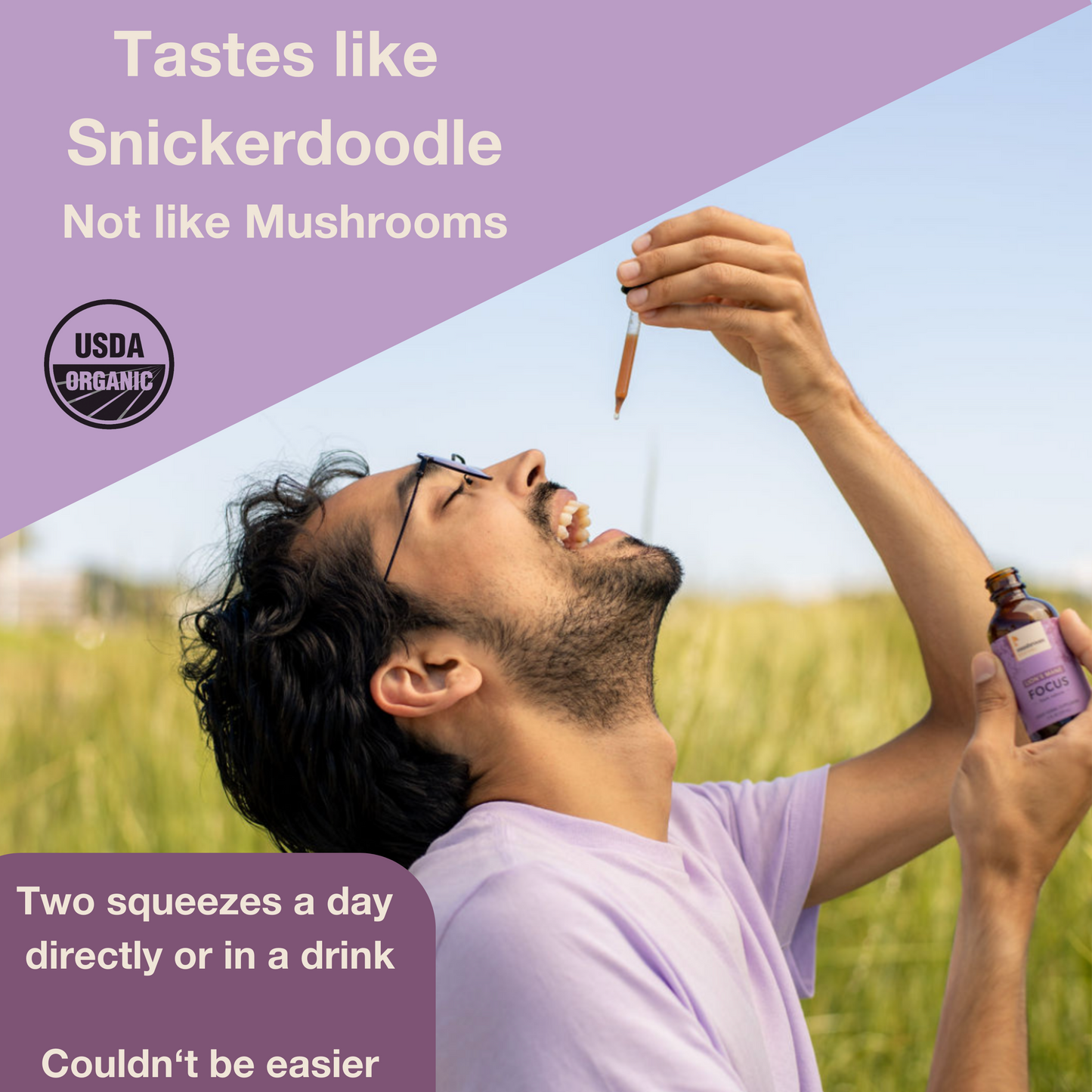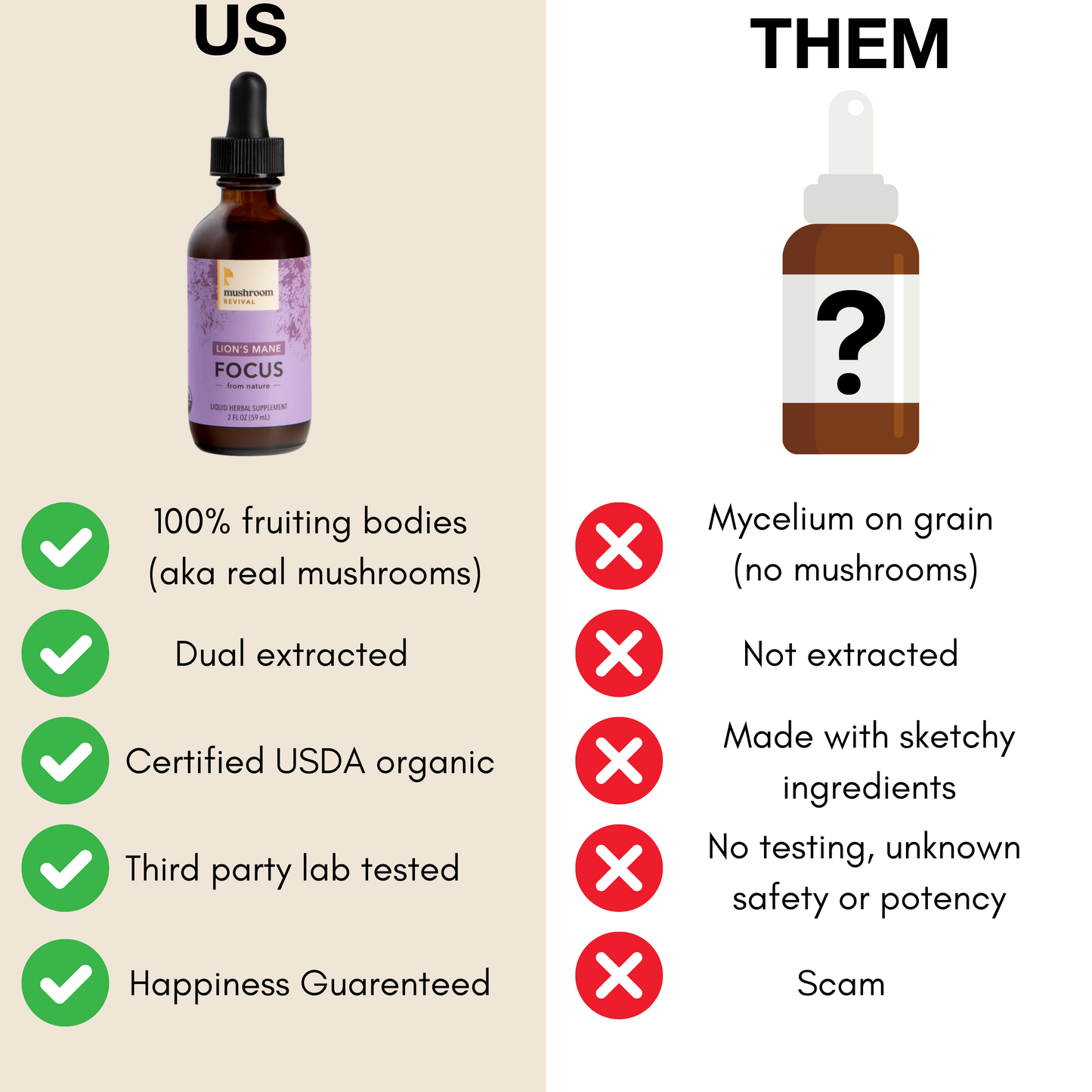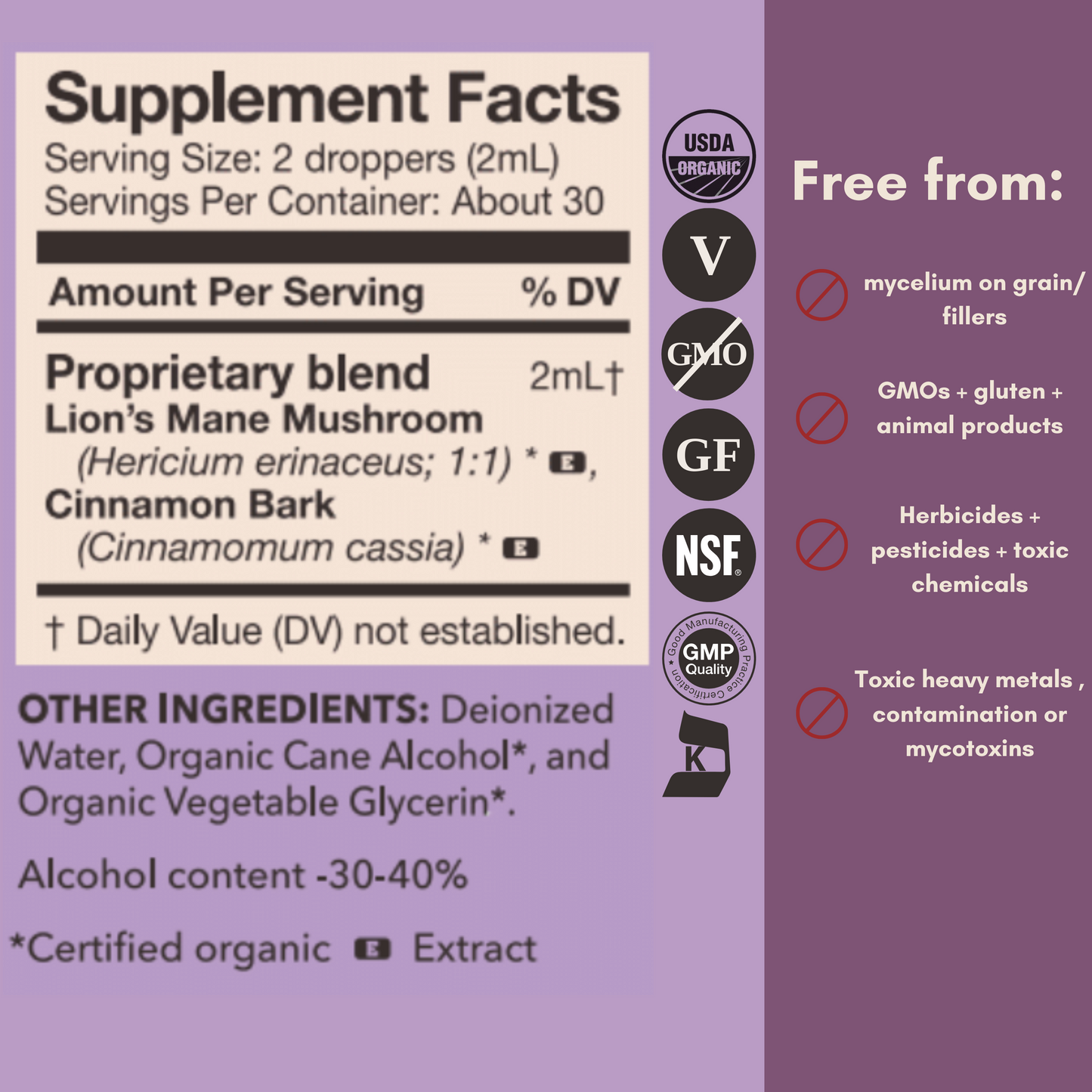 Product Details
Description

Lion's Mane Tincture Supports:



Mental clarity, focus and recall*
Cerebral and cognitive function*
Gut Health*
Nervous System*

Having trouble turning on the lightbulb in your head? Try this Focus Lion's Mane Tincture for a mental "Mushroom Revival" to sharpen your memory and get your mind's creative juices flowing. This liquid tincture is the fastest way to access this mushroom's benefits and support your cognition, productivity, creativity, and mood.

Naturally vegan, lion's mane mushroom tincture is your brain's superfood. Commonly known as the "sharp mushroom" by mycologists in the mushroom community, lion's mane is a nootropic that might make you feel smarter.

Add a crash-free boost to your morning routine with the best lion's mane supplement, which is certified organic and non-GMO so that you only get the good stuff. We only use mushroom fruiting bodies, so you're not getting any mycelium on grain or other fluff or filler.

A few squeezes might make you feel that burst of mental clarity you need to go on and get sh!t done! Place them under your tongue for faster effects, or add them to your drink for a smarter morning cup of coffee, tea, smoothie, or whatever else you drink to start your day.

If you are new to mushrooms, organic lion's mane in tincture form might be a good starting point. And since your body absorbs these drops faster than other forms, you can see how Lion's Mane works with your body and adjust your dose accordingly.

*These statements have not been evaluated by the Food and Drug Administration. This product is not intended to diagnose, treat, cure, or prevent any disease.

Out of Stock

Suggested Use

Take two squeezes of the dropper bulb on the tongue or in your favorite drink. Take more as desired.
Ingredients

Lion's Mane Mushroom
(Hericium erinaceus; 1:1)*
Cinnamon Bark
(Cinnamomum cassia) *

Other ingredients: Deionized Water, Organic Cane Alcohol*, and Organic Vegetable Glycerin*. Alcohol content: 30-40%

• *Certified organic
• 100% mushroom fruit bodies.
• No mycelium on grain.
Customer Reviews
Write a Review
Ask a Question
08 February 2023
Anonymous

United States
Tastes good too
I think this works and I'm very supportive of this company in general.
13 January 2023
Sharron R.

United States
Clear thinking
I can think clearly now.
Lions mane tincture
Wish the dropper had measurements on it.