Energy Cordyceps Tincture
Energy Cordyceps Tincture
A few squeezes in your mouth or in your favorite drink. A 10 second ritual to 10x your health and unlock your vital energy with functional mushrooms (non-psychoactive) . Cordyceps mushrooms are a caffeine free, jitter free, crash free natural superfood to feel on top of the world.
Supports:
Energy and endurance
Occasional stress adaptability
Athletic performance
Metabolic function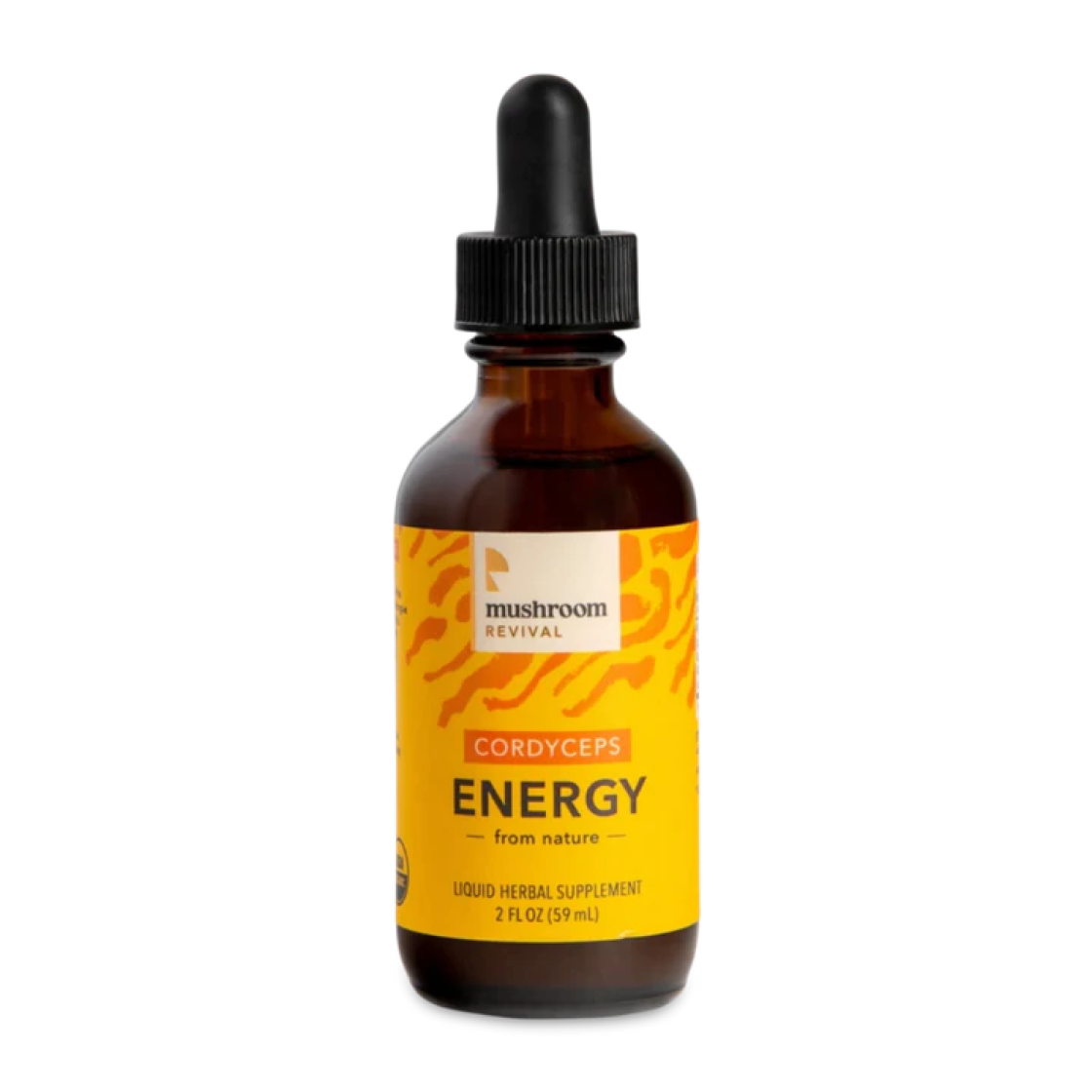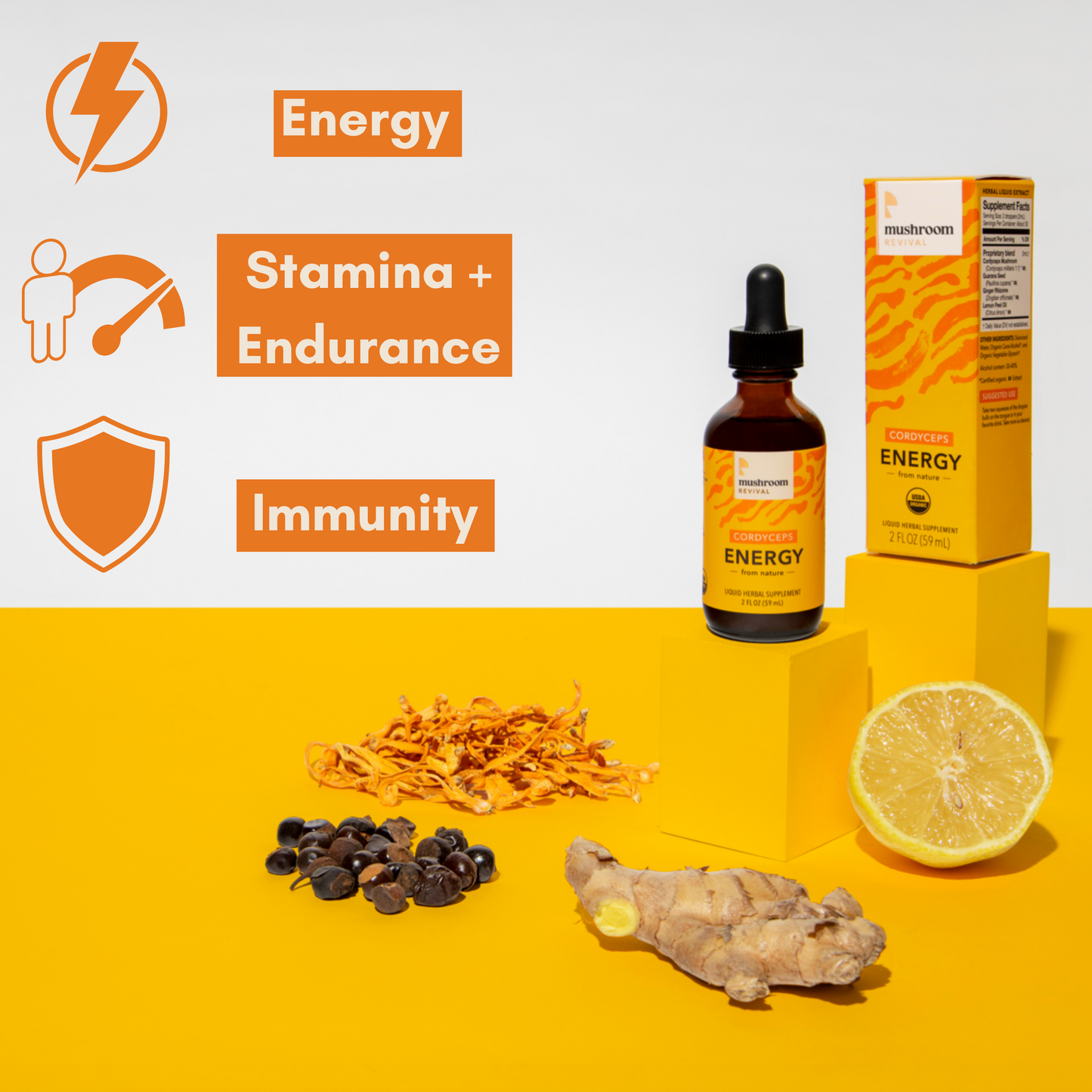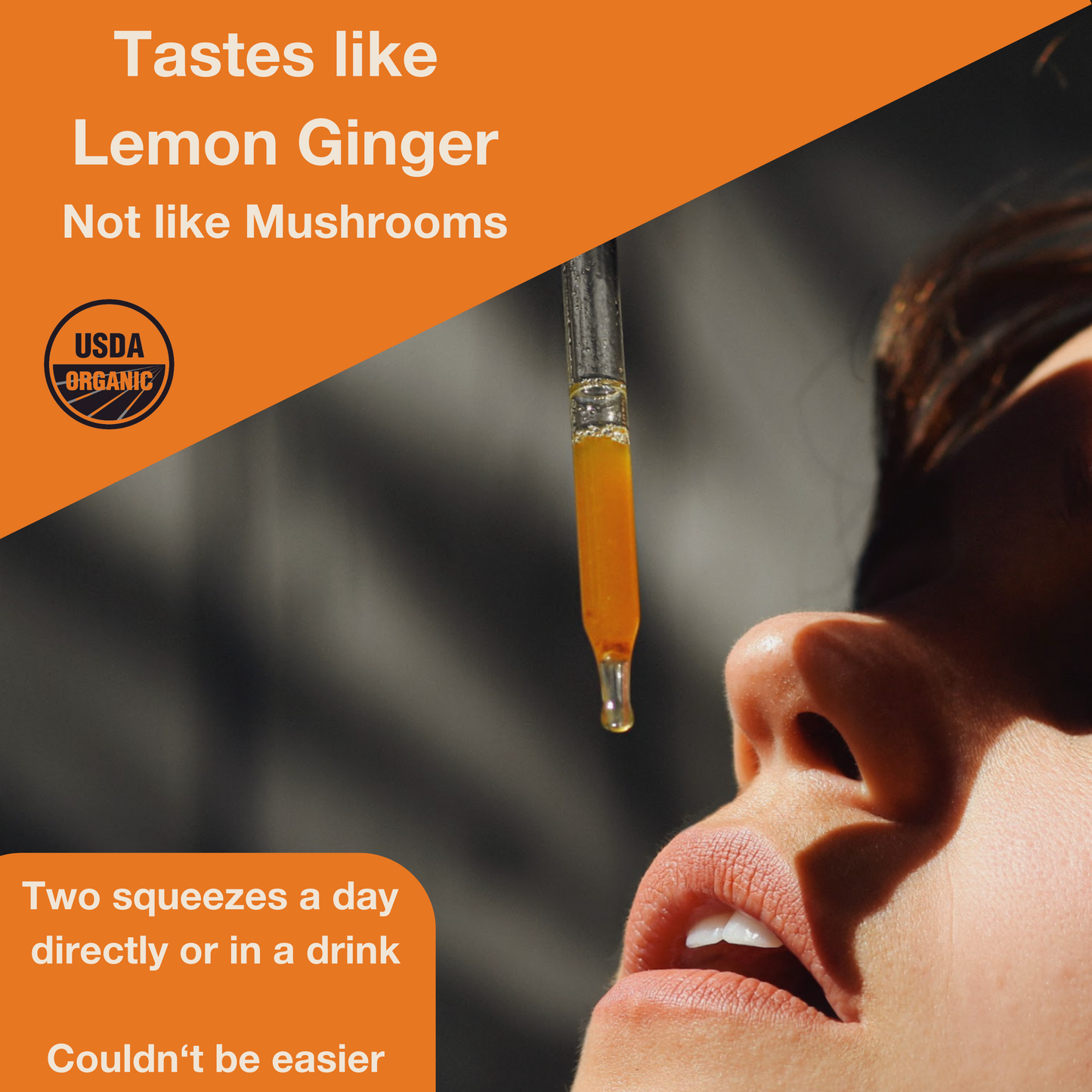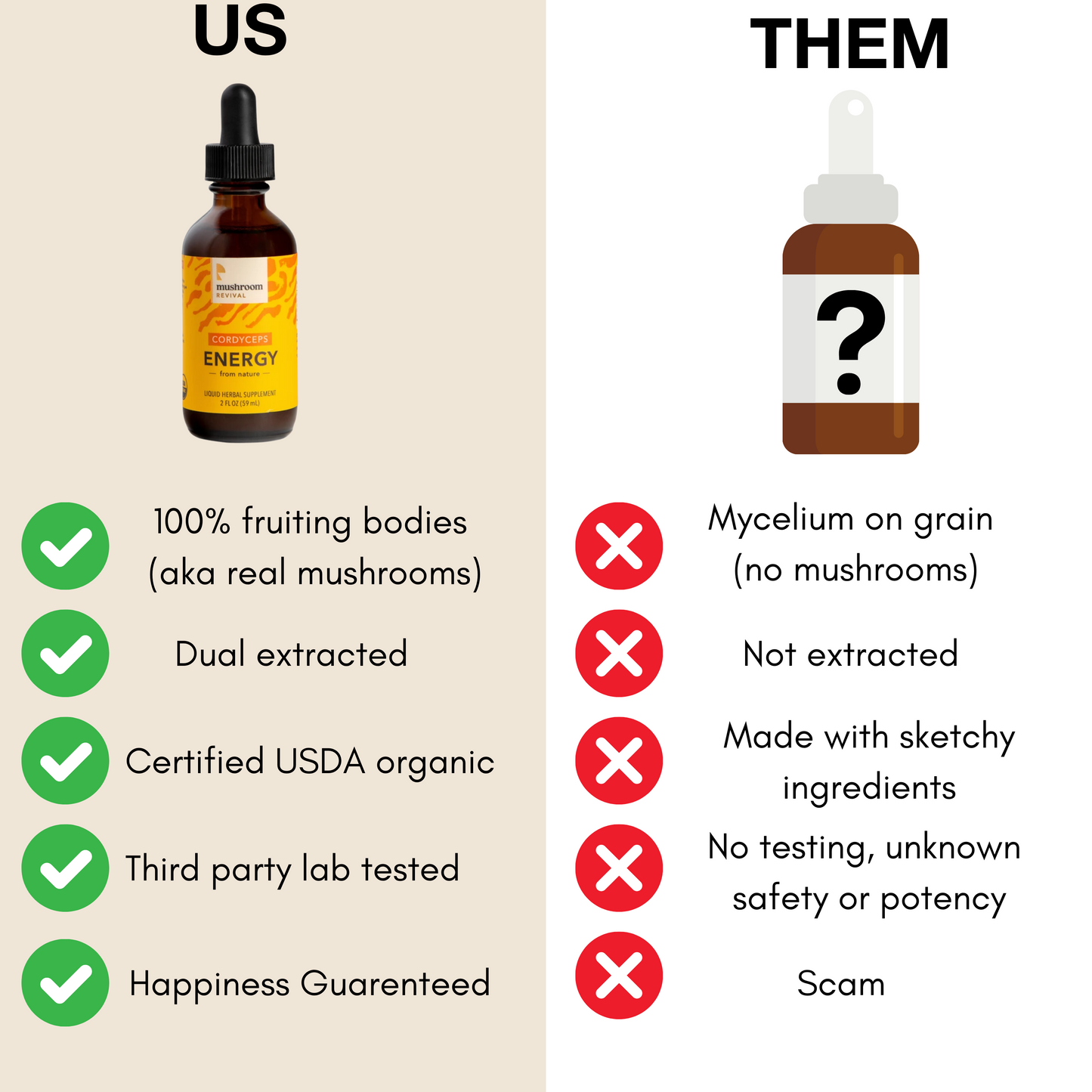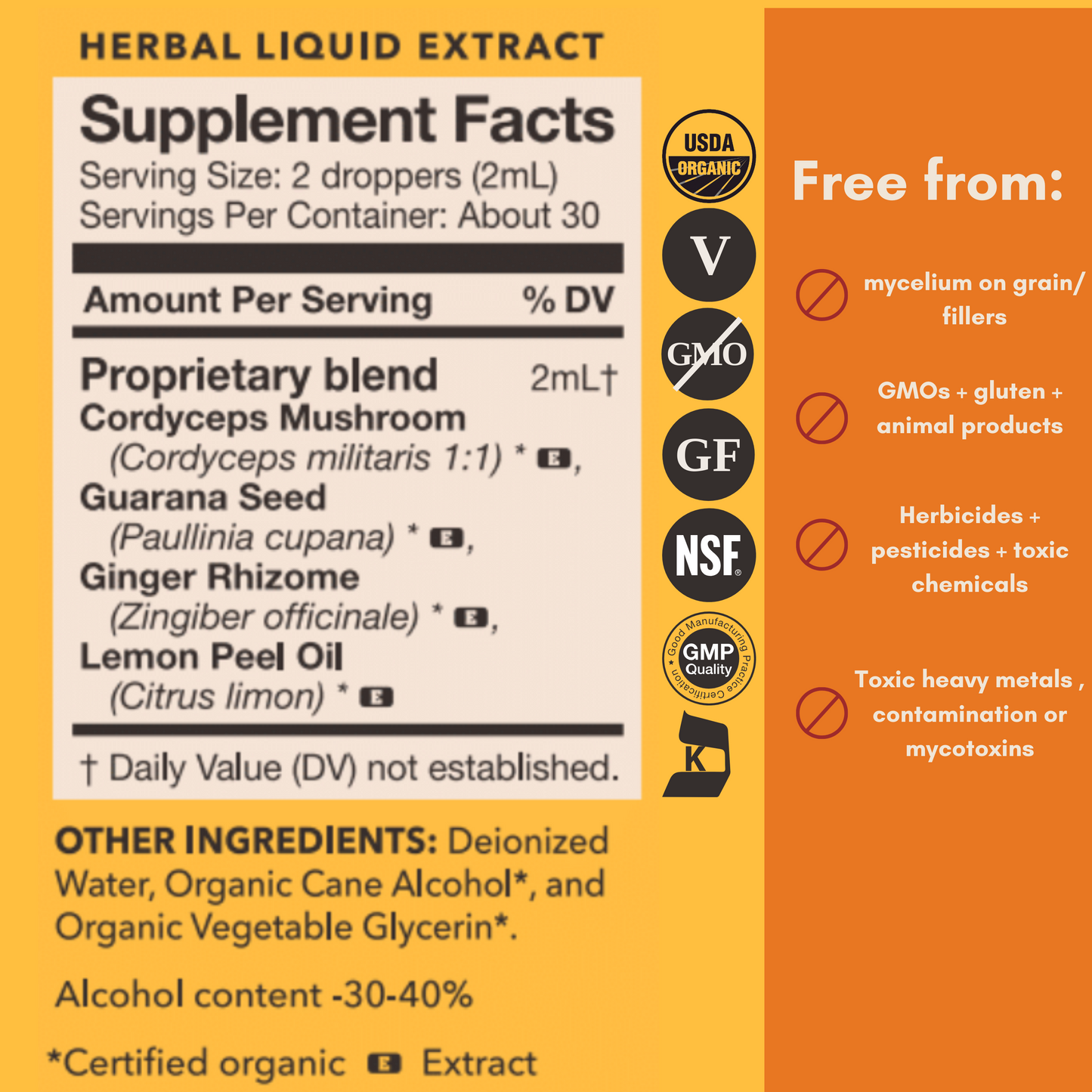 Product Details
Description

Supports:

Energy and endurance
Occasional stress adaptability
Athletic performance
Metabolic function 

Do you ever drink coffee only to be attacked by the jitters, terrible acidity, and that dreaded afternoon crash? Do you catch yourself reaching for sugary snacks and drinks? Cordyceps does none of that crap. This functional mushroom provides a quick, healthy lasting jolt of energy that you can take on the go, without the jitters or crash.

A few squeezes of our Energy cordyceps tincture under your tongue or in your drink could make the difference in supporting your energy and powering you through your day. 

Where does this energy come from? Cordyceps supports the body's production of ATP, the molecule that carries energy in cells. Cordyceps also supports oxygen intake and lung capacity, which is why it's so attractive to overachievers like performance athletes who need to support their physical stamina and endurance.

Fun fact: Mushroom Revival was the first company to have a certified organic cordyceps militaris mushroom farm in the Americas, which we opened in 2018. Since then, cordyceps popularity has continued to grow and so we've partnered with our network of sister farms so that we can keep bringing you our USDA-certified organic, 100% vegan cordyceps tinctures.


Check out our FAQ to learn about the basics and more.

Each Product Plants One Tree! Learn more here. 

*These statements have not been evaluated by the Food and Drug Administration. This product is not intended to diagnose, treat, cure, or prevent any disease.
Suggested Use

Take two squeezes of the dropper bulb on the tongue or in your favorite drink. Take more as desired.
Ingredients

Cordyceps Mushroom
(Cordyceps militaris 1:1)*
Guarana Seed
(Paullinia cupana)*
Ginger Rhizome
(Zingiber officinale)*
Lemon Peel Oil
(Citrus limon)*

Other ingredients: Deionized Water, Organic Cane Alcohol*, and Organic Vegetable Glycerin*. Alcohol content: 30-40%

• *Certified organic
• 100% mushroom fruit bodies.
• No mycelium on grain.
Customer Reviews
Write a Review
Ask a Question
10 October 2023
Anonymous

United States
CORDYCEPS ENERGY
Amazing and so helpful in my daily activities!! Thanks
05 October 2023
Michael H.

United States
Game Changer!
Certified game changer! So much energy, no "jitters" or crash
12 September 2023
Michael H.

United States
Woahhhh!!! This really works...
I am so happy I decided to try this out! It's hard to describe but I've never felt energy like this. I want to call it behind-the-scenes energy, I definitely feel more awake and alert but its a totally different feeling than any type of energy drink or caffeine. It feels like my body is working like it should be working? lol. no come up for crash, just natural energy. Cordyceps combined with the Lions Maine (Focus)...name a better duo, ill wait..