Energy Cordyceps Capsules
Energy Cordyceps Capsules
First certified organic mushroom capsules in the world. A 10 second ritual to 10x your health and unlock your vital energy with functional mushrooms (non-psychoactive). Cordyceps mushrooms are a caffeine free, jitter free, crash free natural superfood to feel on top of the world.
Supports:
Energy and endurance
Occasional stress adaptability
Athletic performance
Metabolic function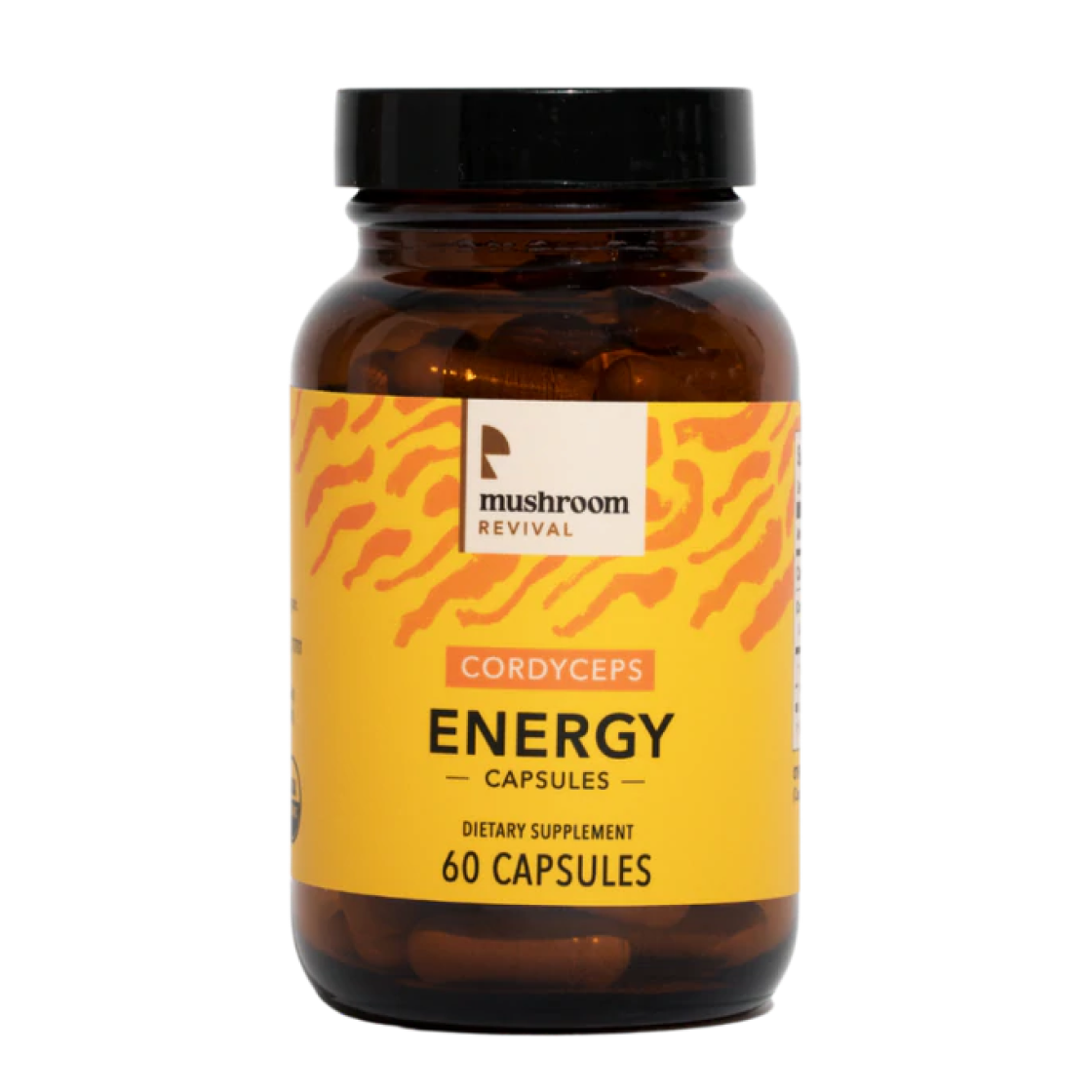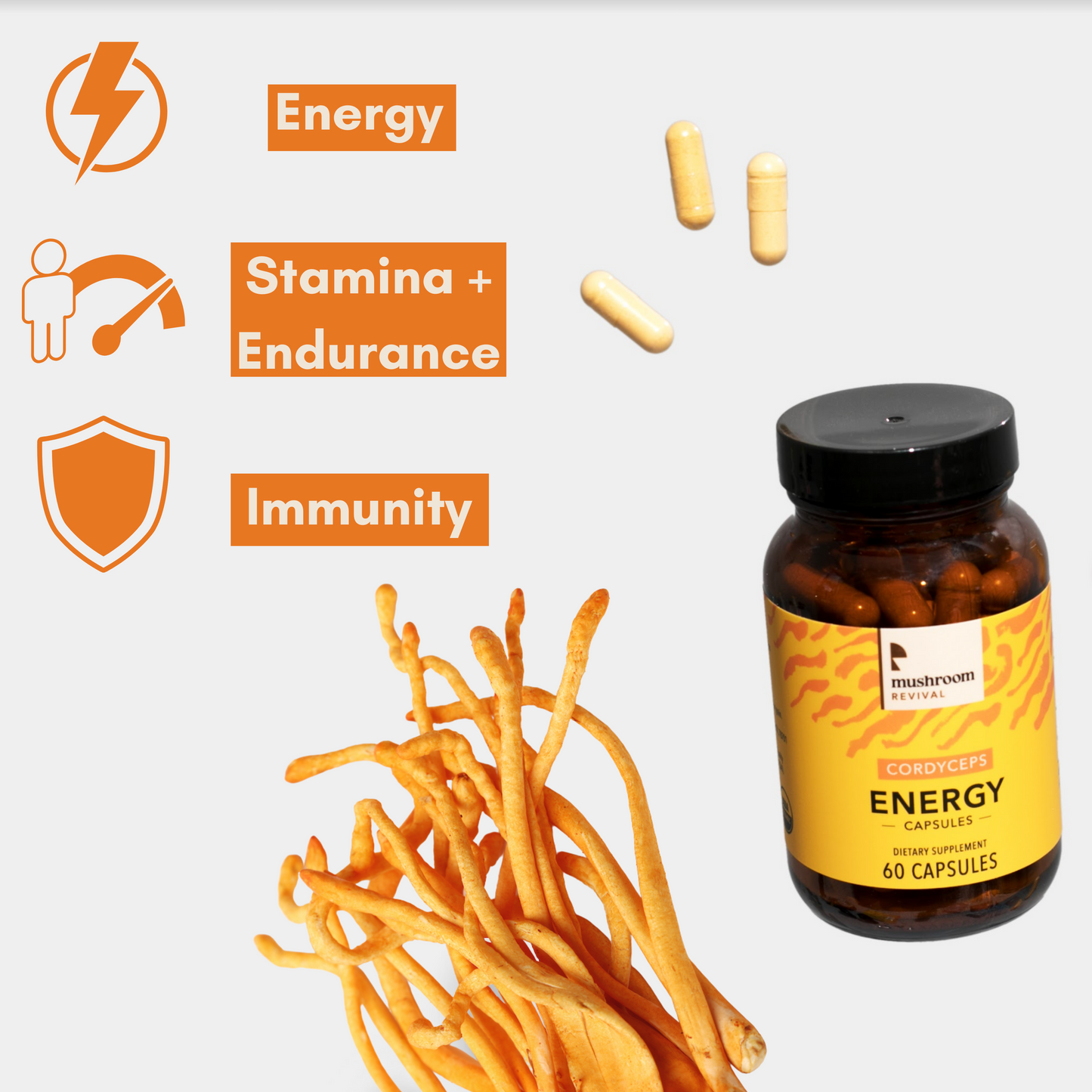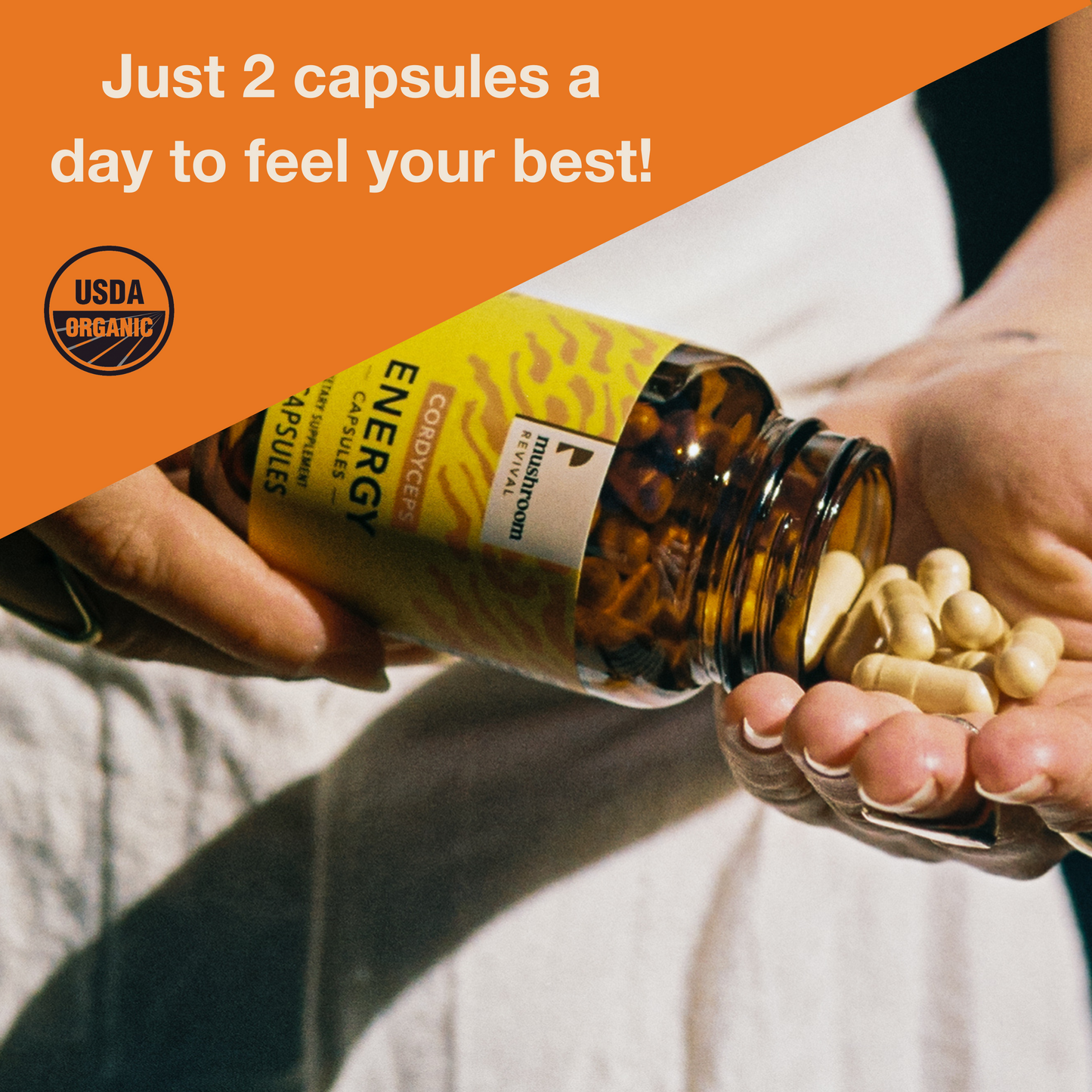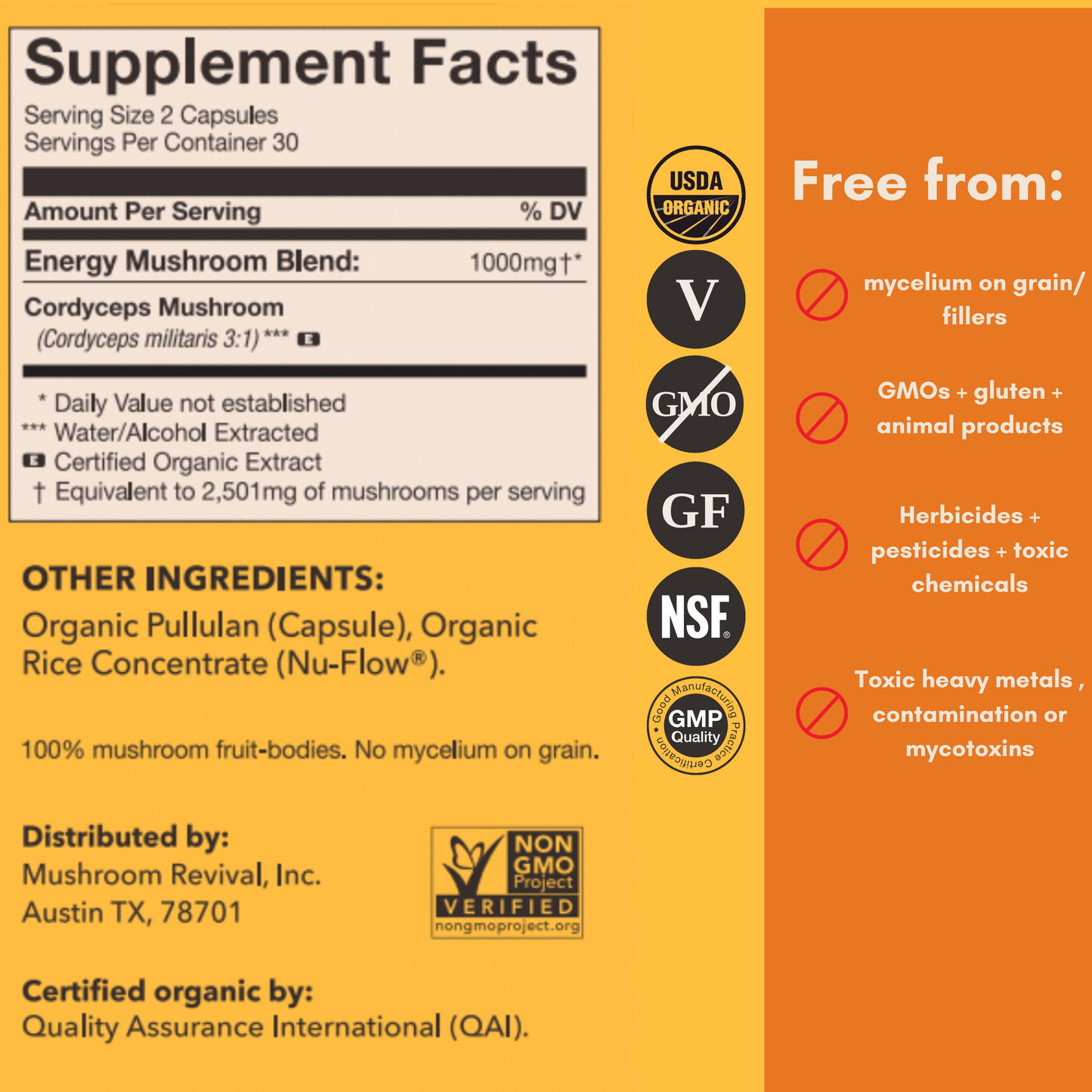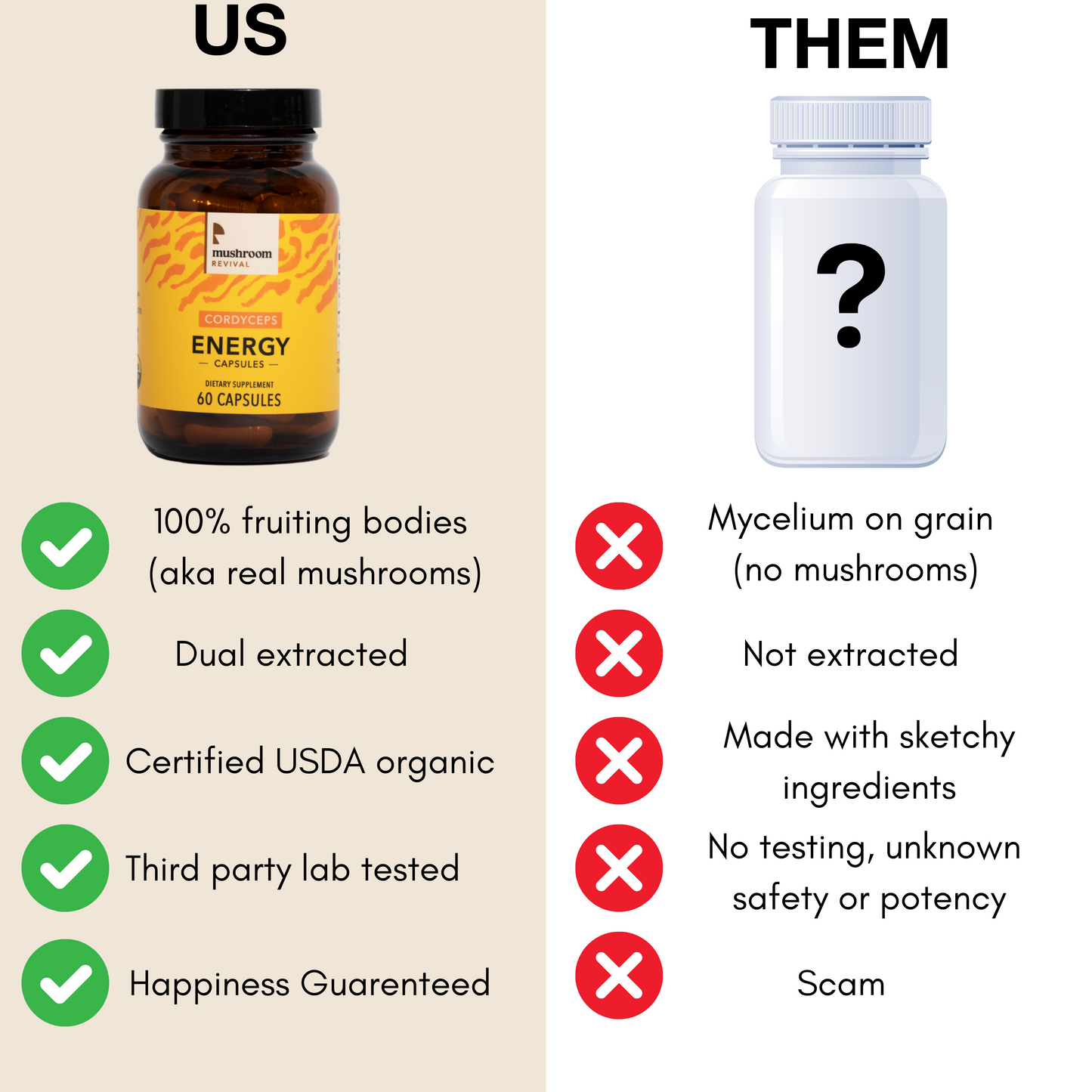 Frequently bought together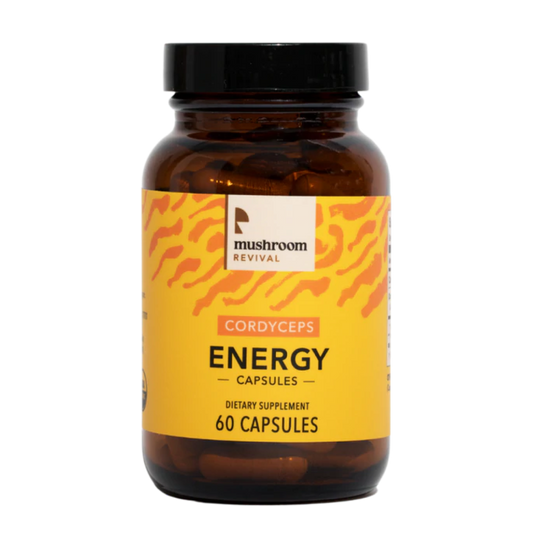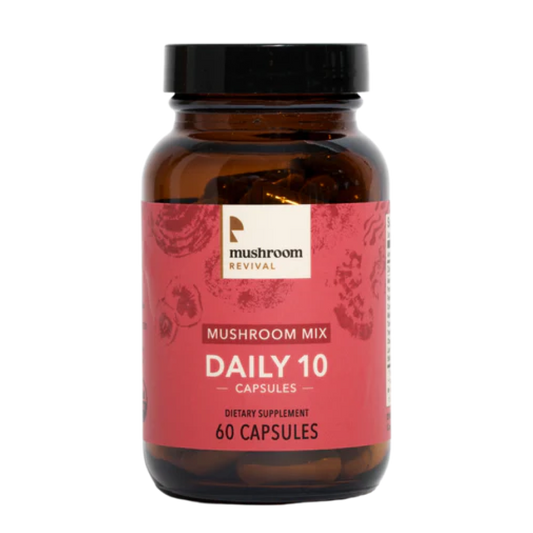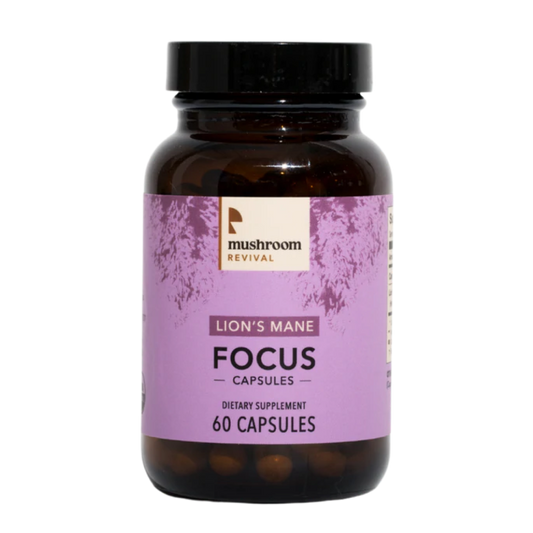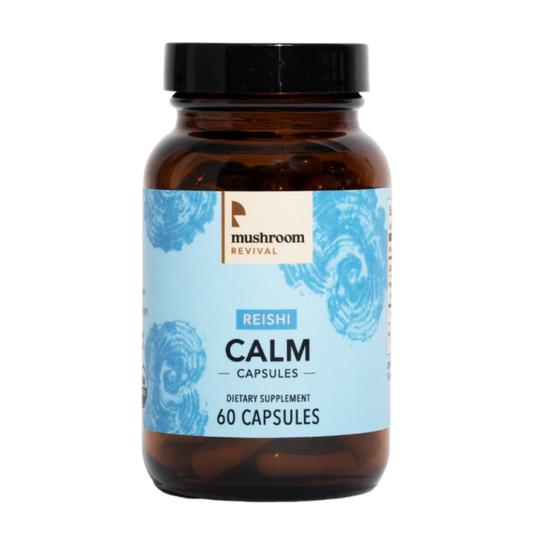 Revive your health
Included in this pack: Energy Cordyceps Capsules + Daily 10 Mix Mushroom Capsules + Focus Lion's Mane Capsules + Calm Reishi Mushroom Capsules
TOTAL (4 Pack - Save 15%): $139.80 $118.83
Revive your health
Product Details
Description

Supports:

Energy and endurance
Occasional stress adaptability
Athletic performance
Metabolic function 

Friends don't let other friends have afternoon crashes… which is why they get Mushroom Revival's Energy cordyceps capsules. 

Do you want more energy each day, without jitters? Our functional mushroom supplements have been used by fitness enthusiasts and performance athletes seeking to support their endurance and physical stamina. Some people say they feel it supports their vitality and circulation, while others say it feels like turning on all the nitros. 

When you just need to get sh!t done, cordyceps mushrooms support energy on the cellular level to help you stay focused and energized to power on through your day. Carry these USDA-certified organic, vegan capsules with you wherever you go, and perk up when you need to.

Are you new to functional mushrooms? We were new once, too! It was actually the cordyceps mushroom that got our founder/CEO Alex Dorr interested in functional mushroom supplements. Cordyceps militaris supported his energy levels while he bounced back from his own health struggles.


Equivalent to 2501mg of mushrooms per serving, or 75,030mg of mushrooms per bottle

Feeling a little lost with this information or have specific questions? Check out our FAQ to learn about the basics and more.

*These statements have not been evaluated by the Food and Drug Administration. This product is not intended to diagnose, treat, cure, or prevent any disease.
Suggested Use

Take two capsules everyday
Ingredients

Organic Energy Mushroom Blend: 1,000 mg † *

Organic Cordyceps Mushroom Extract 3:1 (Cordyceps militaris) (Fruiting Body) ***

* daily value not established
*** Water/Alcohol Extracted
† equivalent to 2,501 mg of mushrooms per serving

Other Ingredients:
Organic Pullulan (capsule)
Organic Rice Concentrate (Nu-Flow) (anti-caking material)

100% Mushroom Fruit Bodies. No Mycelium on Grain
Customer Reviews
Write a Review
Ask a Question
29 November 2023
Eric

United States
Nice for a pep in the morning.
08 May 2023
Anne W.

United States
ENERGY!
I have been taking the Daily 10 blend for a month and started these a few weeks ago for energy. I have felt better in the past few weeks than I have felt in years! I've been able to wake up in the morning more easily and am on my second week of working out in the mornings before work. Thank you!
27 April 2023
Bryan C.

United States
It's all about the Fruiting Bodies!
I absolutely love The Mushroom Revival Podcast, Alex is the real deal! These Cordyceps Dual Extract Capsules have been an absolute game changer for my energy levels. This is a great way to gain energy, clarity, and focus for anyone but I think there's massive benefit to those suffering from Mental Ilness especially. I have Schizoaffective Disorder and these Cordyceps have help me to maintain stable and sustainable energy levels. Things like caffeine and Adderall tend to induce my hypomania while cordyceps have no side-effects whatsoever. I also gave these to my Mother who was recently diagnosed with a rare form of Ovarian Cancer. The surgeons removed a 3lbs tumor, it was such a monster that they sent slides to Johns Hopkins Medicine for research. Anyhow, she's halfway through chemo and her CA125 levels are down from 97 to 17! We of course can't say for certain what's doing the trick but I think Cordyceps have been key to atleast maintaining her energy levels through the chemo process itself. Mind Fog was a major concern of hers during chemo and she's seen massive benefit in that area as well. My Mother started using these and the Daily 10 Capsules about 2 weeks into chemo and had already been receiving Nutrina, needless to say, she was in rough shape. About 20 minutes after her first dose I watched her transform from barely able to hold her neck up, to being present, aware, and exuding life again. It was brutal to see her suffer those first few weeks and I was brought to tears when I got home from spending that day with her. Thank You, Alex and the crew of Mushroom Revival. You fun-guys & gals are changing lives! Oh, any chance you'll get into Turkey Tail Extracts? Thank You, Mush Love!