Energy Gummies
First USDA certified organic mushroom gummies in the world. A tasty treat to 10x your health with functional mushrooms (non-psychoactive). Not only do they taste good, they make you feel good too! Cordyceps mushrooms are a caffeine free, jitter free, crash free natural superfood to feel on top of the world.
Supports:
Energy and endurance
Occasional stress adaptability
Athletic performance
Metabolic function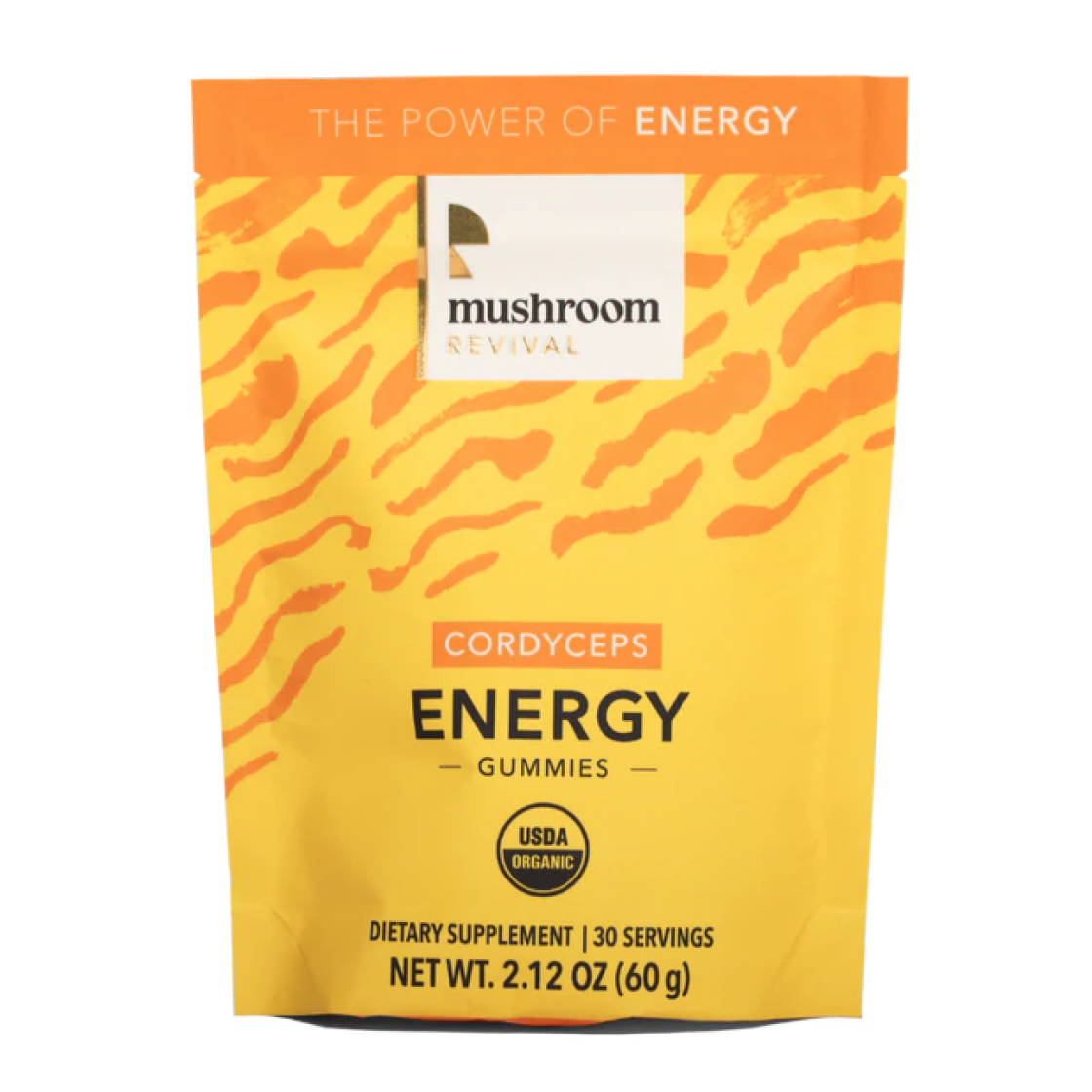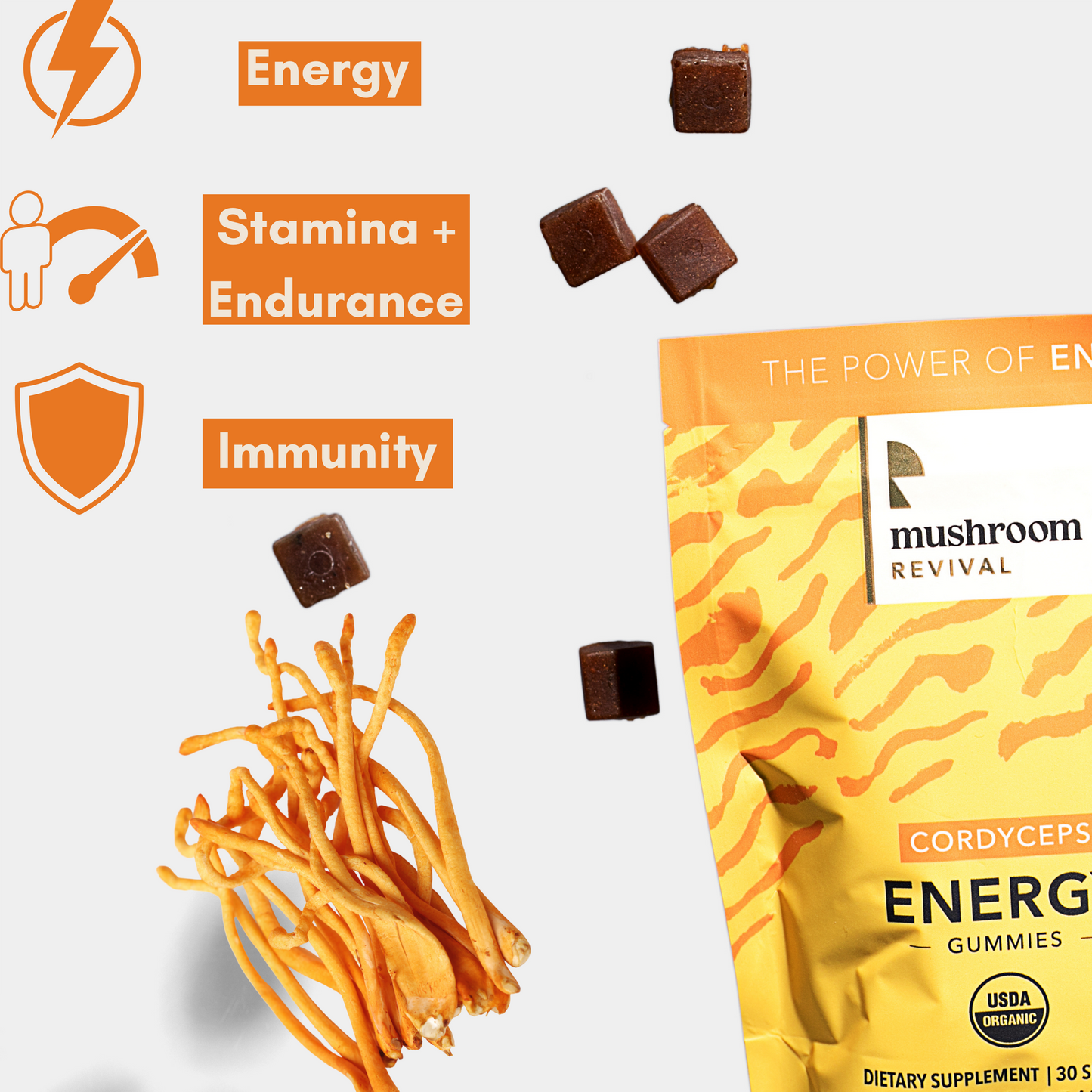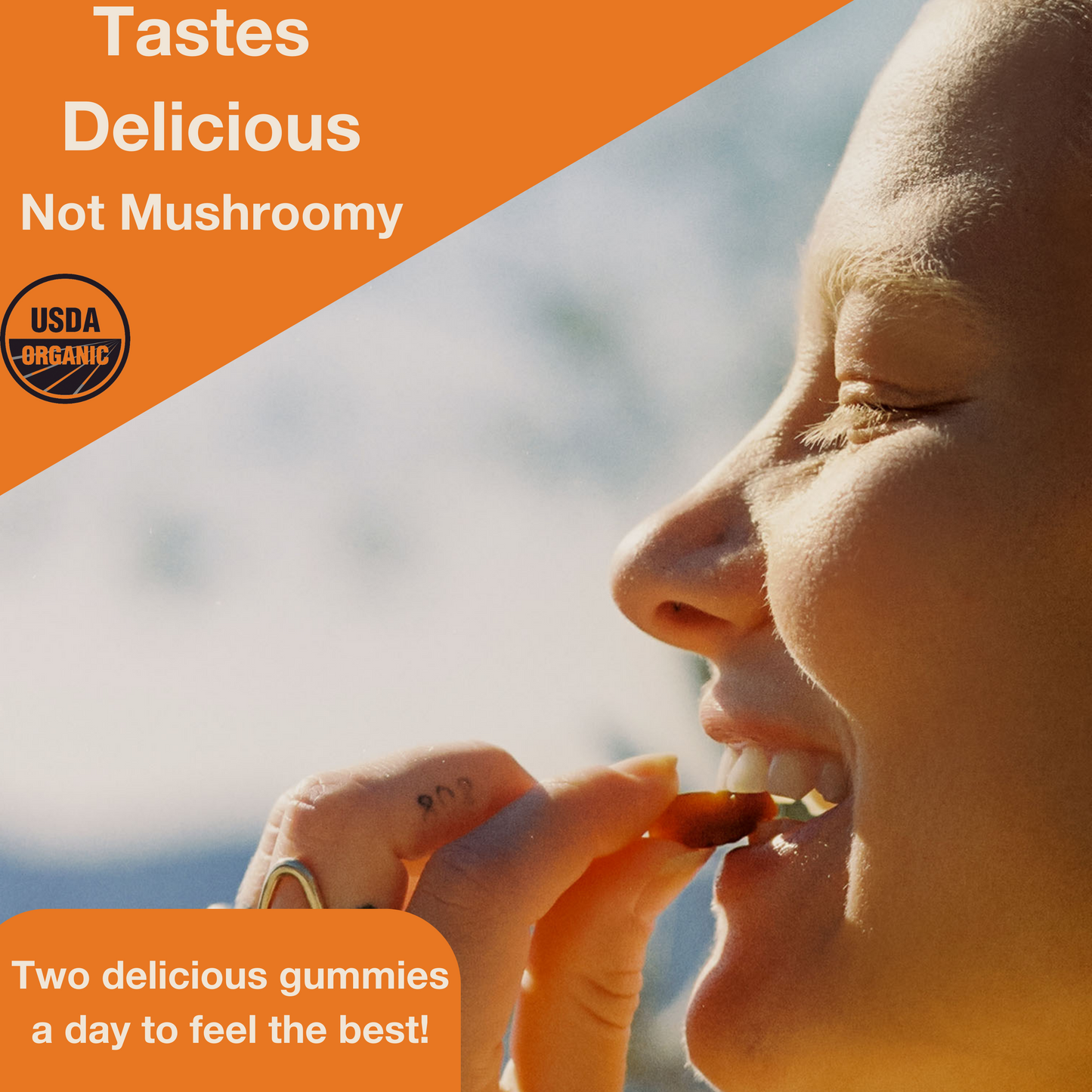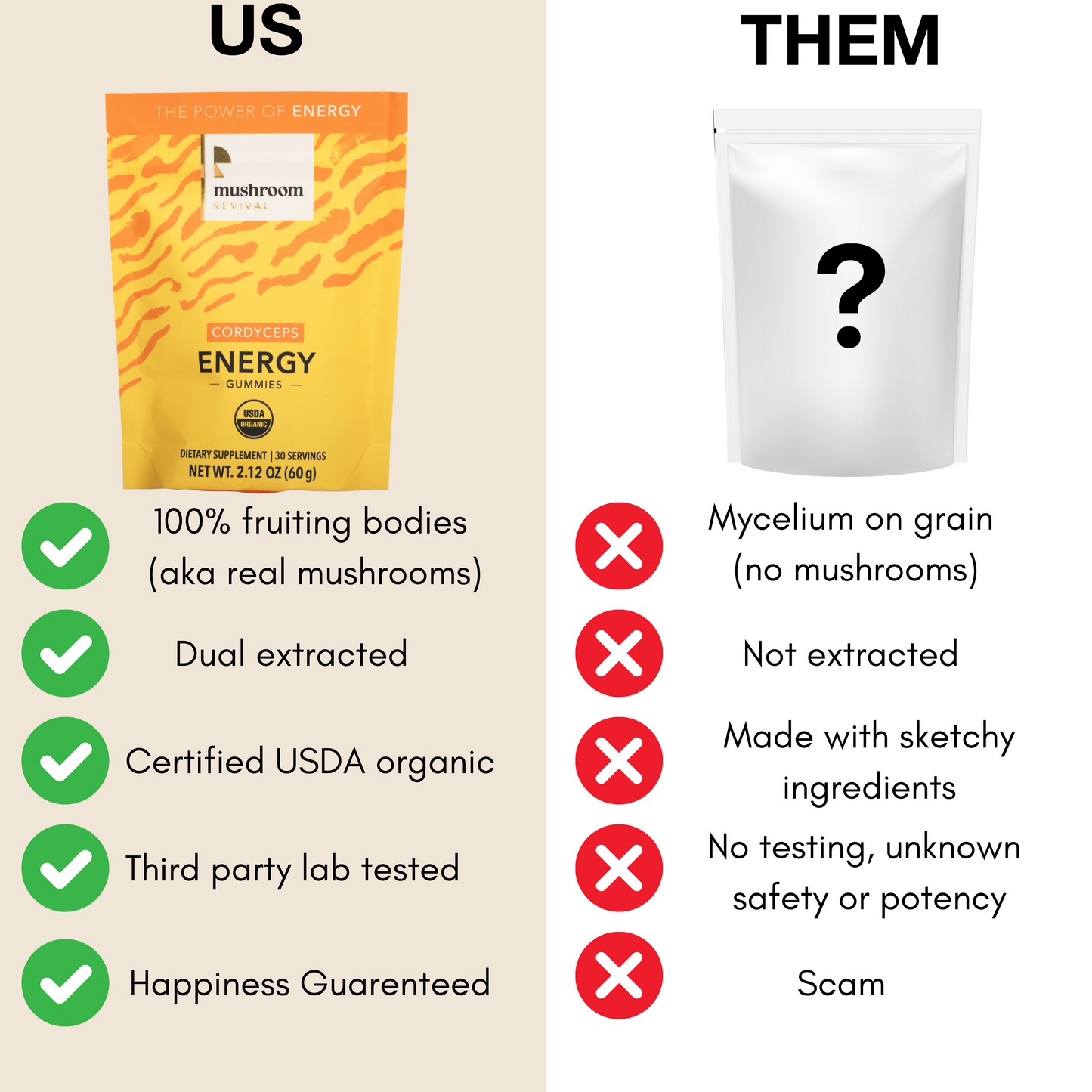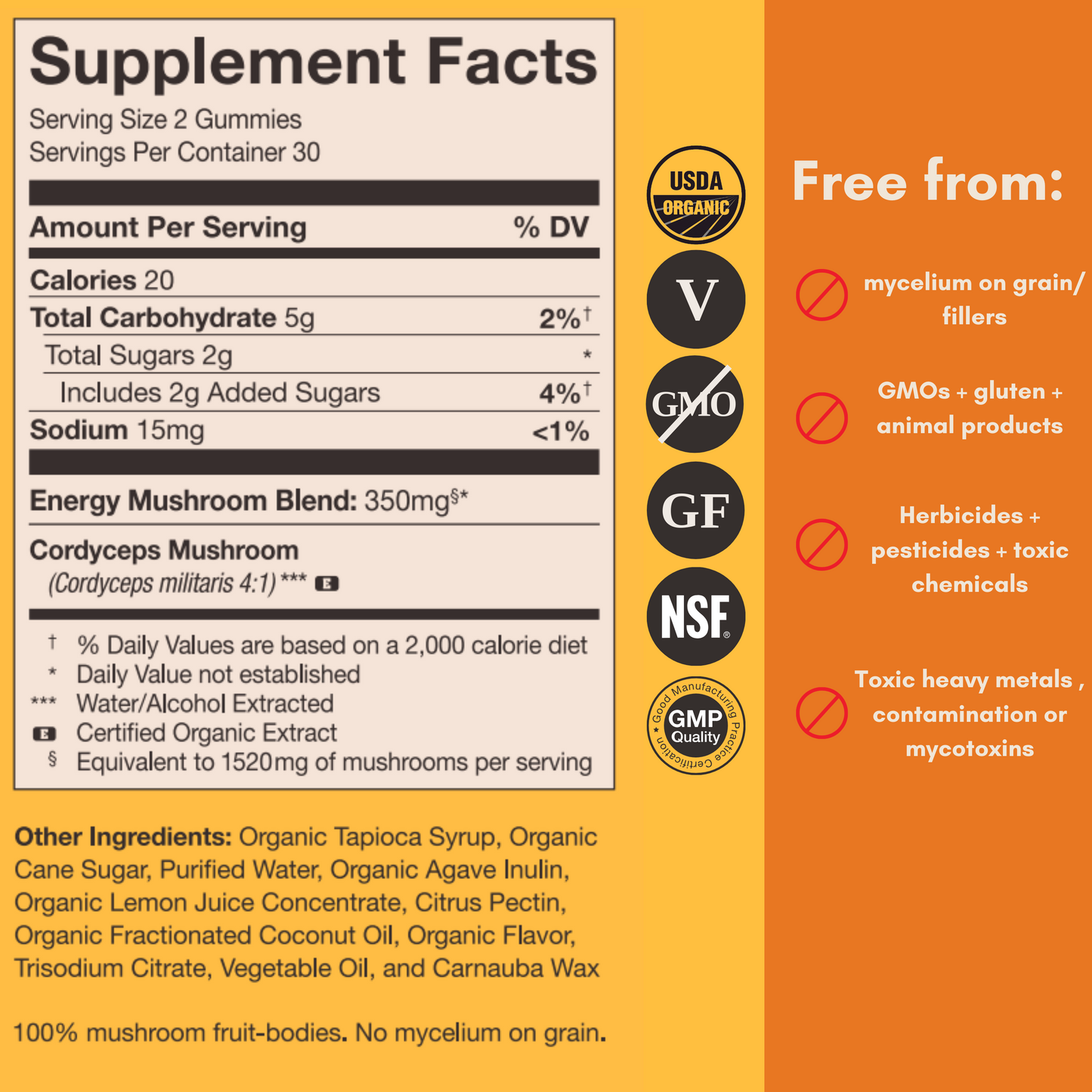 Frequently bought together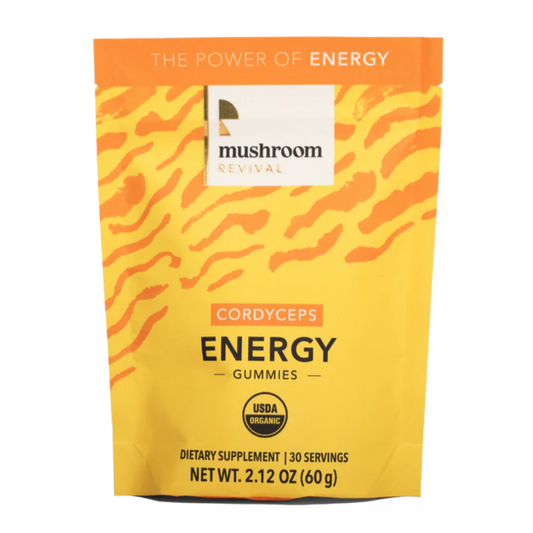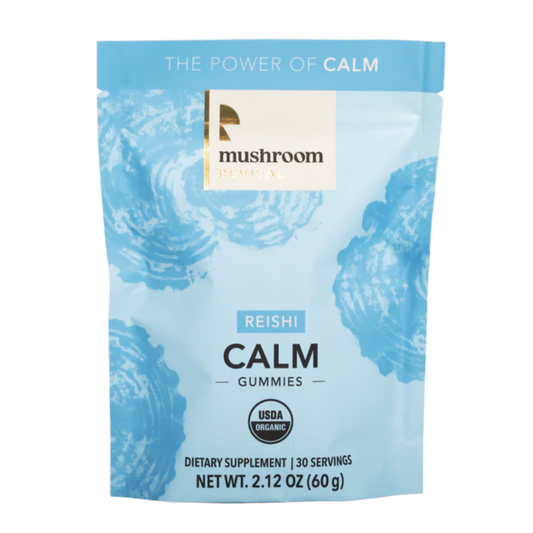 Revive your health
Included in this pack: Energy Gummies + Calm Gummies
TOTAL (2 Pack - Save 5%): $69.90 $66.41
Revive your health
Product Details
Description

World's first USDA certified organic mushroom gummies


Supports:

Energy and endurance
Occasional stress adaptability
Athletic performance
Metabolic function 

If certain energy drinks give your body wings, these gummies will give you a rocketship. Whether you're training for a marathon or life, our Energy cordyceps gummies might be your best friend to support natural energy levels, endurance, and stamina. 

Ours are the first USDA-certified organic mushroom gummies, and they offer a tasty & convenient option designed for anyone who drinks coffee but hates the jitters, strong taste, and afternoon crash; for anyone who reaches for sugary snacks and drinks; and anyone who's sick of feeling like they constantly drag through their days.

Cordyceps may support healthy performance, metabolic function, and immunity. This functional mushroom comes packed with all sorts of special compounds that may support energy production in cells and oxygen intake in the lungs. 

Side note: a few years ago, our founder Alex Dorr was diagnosed with Lyme Disease, and started dedicating himself to living a healthier way of life. His research led him to functional mushrooms, which he found were supportive to overall health and wellness. This is why he launched Mushroom Revival: to help people feel better and feel like themselves again.

Equivalent to 1520mg of mushrooms per serving, or 45,600mg of mushrooms per bag

50% post consumer recycled packaging! 

Feeling a little lost with this information or have specific questions? Check out our FAQ to learn about the basics and more.

*These statements have not been evaluated by the Food and Drug Administration. This product is not intended to diagnose, treat, cure, or prevent any disease.
Suggested Use

Take two gummies everyday
Ingredients

Organic Energy Mushroom Blend: 350 mg † *

Organic Cordyceps Mushroom Extract 4:1 (Cordyceps militaris) (Fruiting Body) ***

† equivalent to 1,520 mg of mushrooms per serving
* daily value not established
*** Water/Alcohol Extracted

Other Ingredients:
Organic Tapioca Syrup
Organic Cane Sugar
Purified Water
Organic Agave inulin
Organic Lemon Juice Concentrate
Citrus Pectin
Organic Fractionated Coconut Oil
Organic Flavor
Trisodium Citrate
Vegetable Oil
Carnauba Wax

100% Mushroom Fruit Bodies. No Mycelium on Grain
Customer Reviews
Write a Review
Ask a Question
03 October 2023
Stephen S.

United States
Cordyceps review
I definitely feel like it has improved my stamina and performance.
24 May 2023
Anonymous

Canada
Unfortunately these energy rush rooms did not agree with me, I had a migraine headache both days I took them I also experienced vomiting.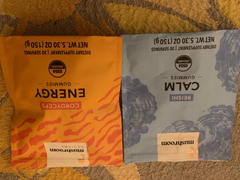 06 May 2023
Cody K.

United States
A gummy really
I am not a gummy person at all, but I love these gummies! The flavor is great and so easy to chew. I just grab two and am good! Thank you so much for making and keep.up the great work. Cody