Calm Reishi Tincture
A few squeezes in your mouth or in your favorite drink. Life stressing you out? Try our CALM tincture powered by Reishi mushrooms. A 10 second ritual to 10x your health and chill the f@&k out with functional mushrooms (non-psychoactive).
Supports:
Relaxation
Occasional Stress Adaptability
Immune function
Cardiovascular system health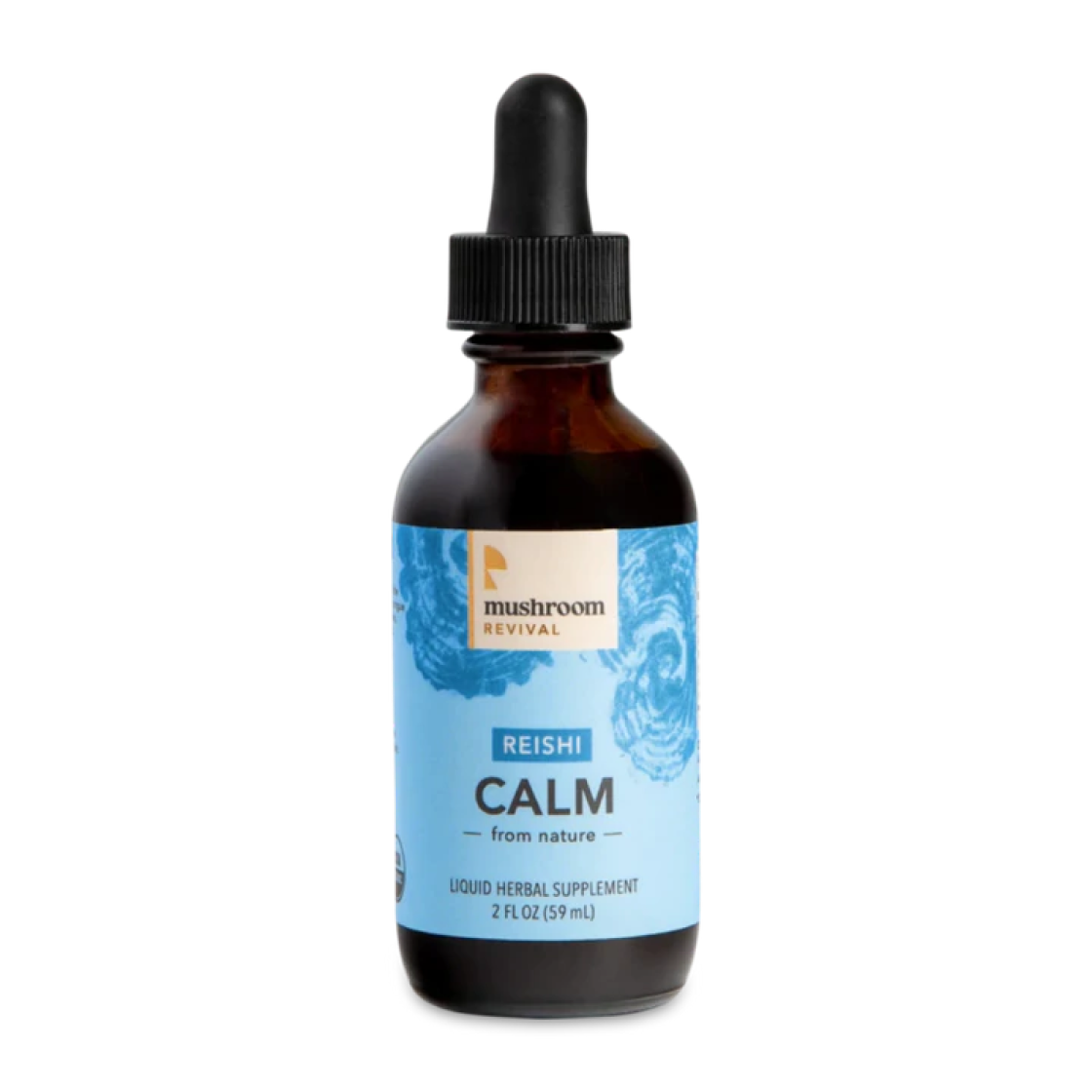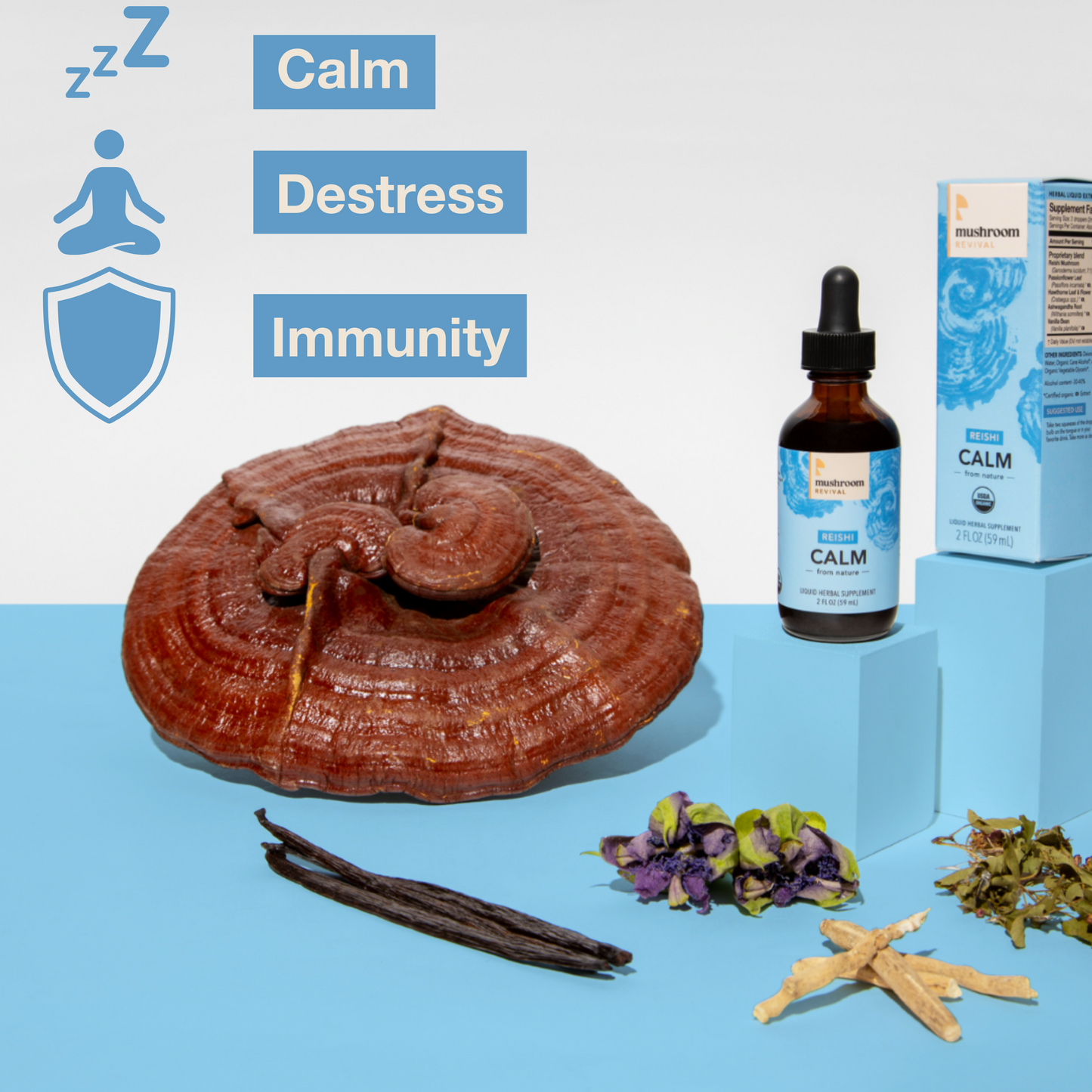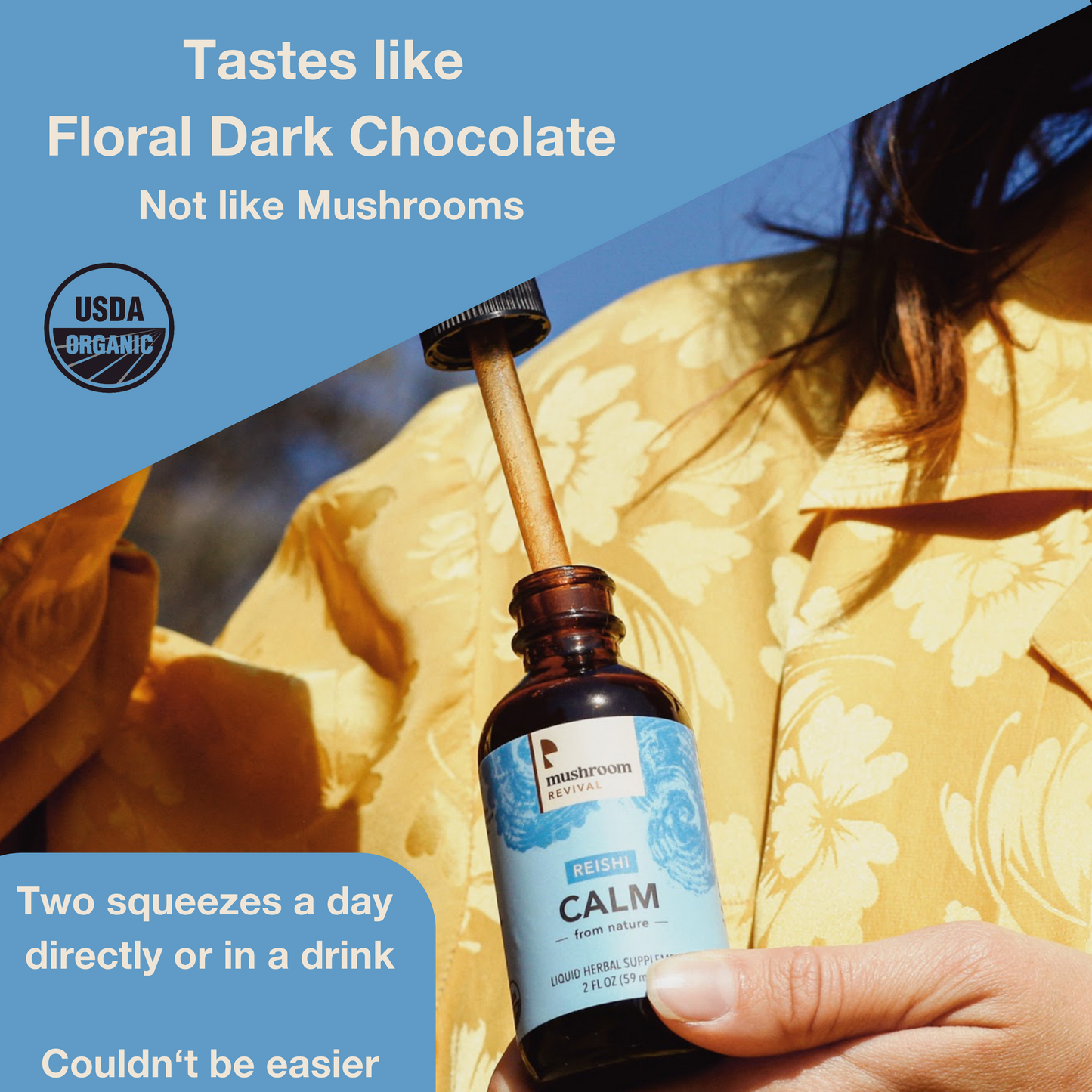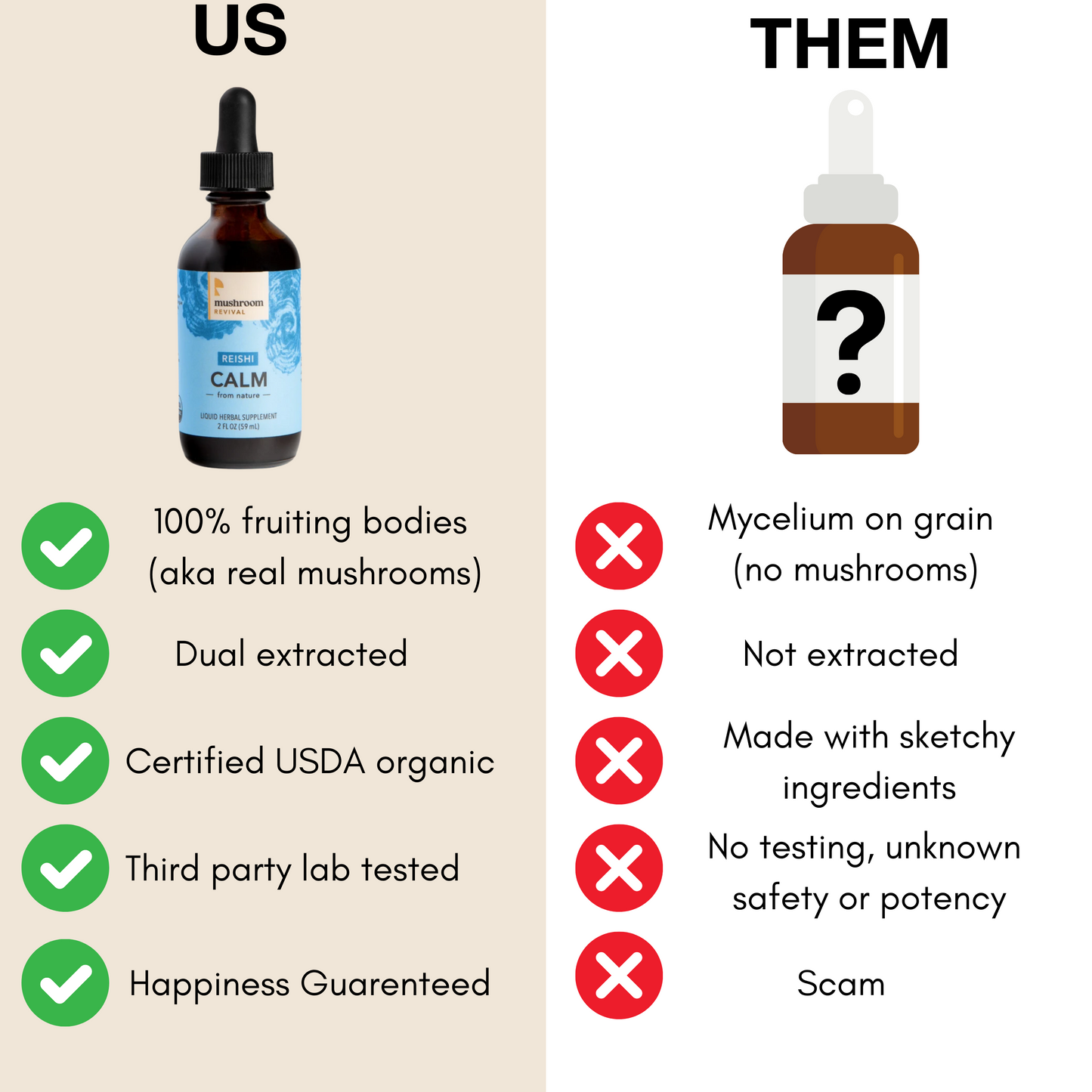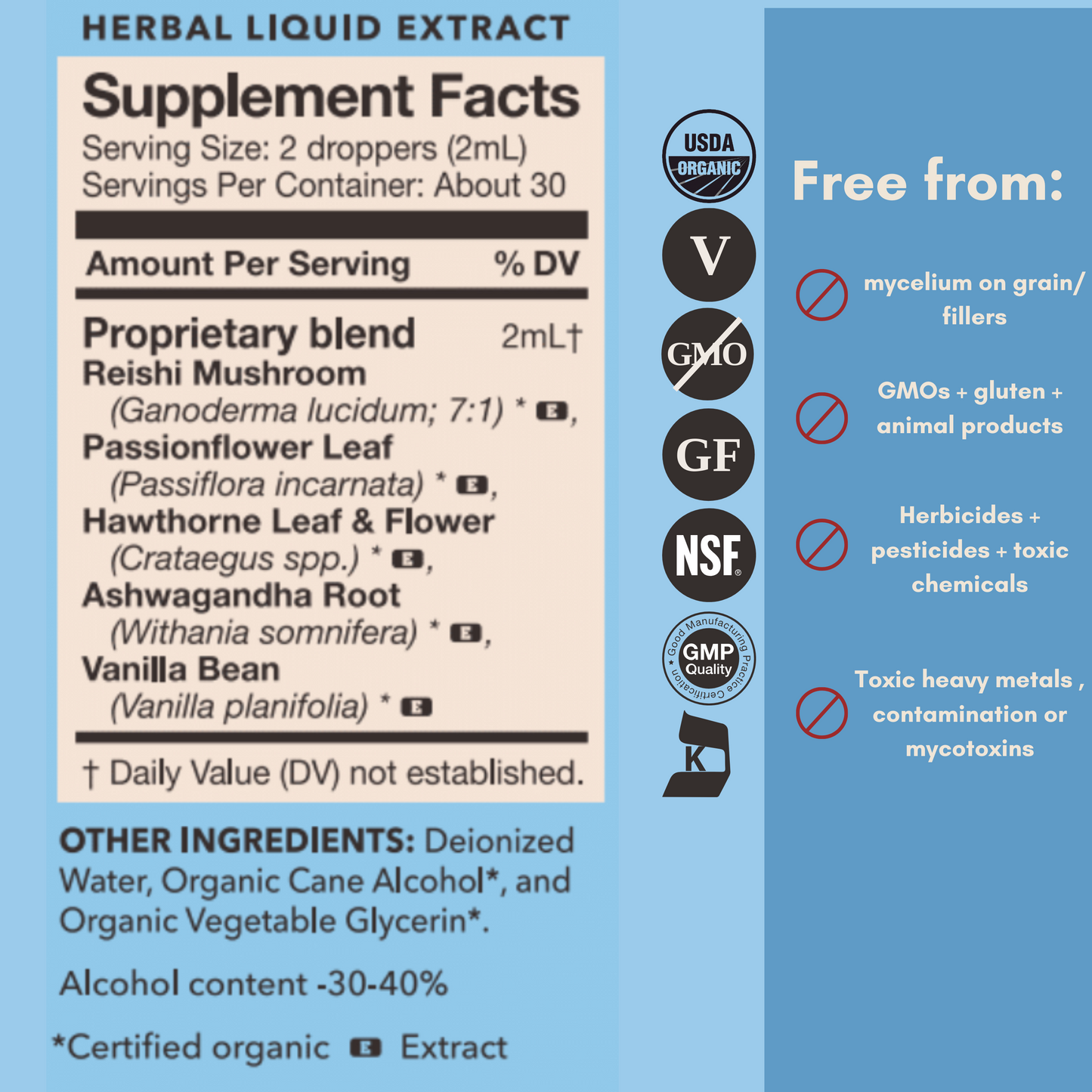 Product Details
Description

Our Calming Reishi Tincture Supports:



Relaxation*
Immune function*
The body's ability to adapt to occasional stress*
Cardiovascular system health*


Need help falling asleep, but want to wake up feeling refreshed, not groggy? Melt your occasional tensions away like butter in a pan with our Reishi Calm Tincture. A few squeezes under your tongue or in your favorite evening drink could support a natural transition into a deeper sleep at night that leaves you feeling more grounded throughout your day.

This calm tincture is a popular formula for anyone feeling overwhelmed and rundown to help support balance, adapt to occasional stress, and maintain well-being. If your days are packed with occasional stress, you (and your adrenals) likely know what feeling rundown and burned out is like. Get help unwinding so you can sleep better at night; your body and mind will thank you.

Make this tincture a bedside table must-have. Easily carry this tincture with you on-the-go, wherever life takes you. Keep it on-hand to gently soothe away your occasional tensions.

You may sleep better at night, since you may feel like you're sleeping on a bed of lavender flowers. You may feel less occasional tension; steadier energy levels throughout the day; a more peaceful state of mind; and support smoother immune and cardiovascular function.

Our Reishi Calm Tincture is USDA-certified organic, 100% vegan, and uses 100% mushroom fruit bodies (no mycelium on grain) for maximum effect.



Bundle up to save even more! (yes you can take more than one blend at a time)

Check out our FAQ to learn about the basics and more.

*These statements have not been evaluated by the Food and Drug Administration. This product is not intended to diagnose, treat, cure, or prevent any disease.

 
Suggested Use

Take two squeezes of the dropper bulb on the tongue or in your favorite drink. Take more as desired.
Ingredients

Reishi Mushroom
(Ganoderma lucidum; 7:1)*
Passionflower Leaf
(Passiflora incarnata)*

Hawthorne Leaf & Flower
(Crataegus spp.)*
Ashwagandha Root
(Withania somnifera)*

Vanilla Bean
(Vanilla planifolia)*

Other ingredients: Deionized Water, Organic Cane Alcohol*, and Organic Vegetable Glycerin*. Alcohol content: 30-40%

• *Certified organic
• 100% mushroom fruit bodies.
• No mycelium on grain.
Customer Reviews
Write a Review
Ask a Question
16 November 2023
Tom A.

United States
The daily sleep potion.
Taste the best of all the reishi tinctures I have tried. Significantly improves my sleep scores as calculated by my Apple Watch. I take reishi everyday for years now. This is the best US made reishi product I have found.
22 September 2023
Christine G.

United States
OHMMM
This tincture helps me stay calm at my stressful job!
11 September 2023
Anonymous

United States
Helping with sleep and anxiety
I bought this for my daughter, and she said it's definitely calming her anxiety and helping her sleep more soundly.